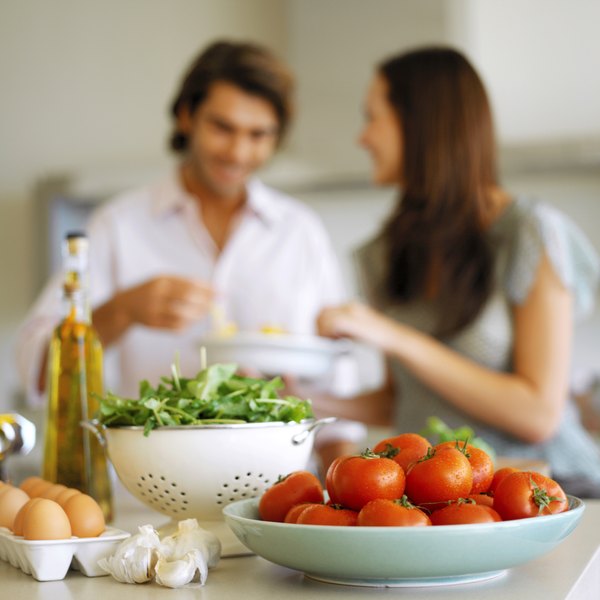 A healthy dinner menu for the week should include a balanced variety of whole, natural foods. Each dinner should have some protein, some healthy fat, a small amount of carbohydrates, and some vegetables. This will round out your day's energy intake, and provide you with vitamins, minerals and fiber.
Start with Seafood
ChooseMyPlate.gov recommends that you eat at least 8 ounces of cooked seafood per week. Fish and shellfish contain significant amounts of protein and healthy fats, and can be included in a versatile range of meals. Grill salmon in olive oil with lemon and herbs, and serve it with roasted vegetables and brown rice. You can skewer shelled shrimp with your favorite vegetables and barbecue them, then serve with salad greens, walnuts and balsamic vinegar.
Bring Out the Beef
Beef is high in protein, and choosing lean cuts makes it a healthy dinner option. Lean ground beef can be mixed with kidney beans, canned tomatoes and herbs for a tasty chilli con carne, topped with low-fat cheese or sour cream to get in a serving of dairy. If you have the time, roast beef and roasted vegetables served with mashed sweet potato is a filling and nutritious meal that will also likely yield tasty leftovers for the next day.
Chow Down on Chicken
Chicken is a good source of protein, and it is lower in saturated fat than many other meats, particularly if you cook the breast without the skin. Dice chicken breast with your favorite vegetables, then stir-fry them in reduced-fat coconut milk and spices and serve over brown rice for a tasty main course. Or shred cooked chicken breast and combine with eggs, mushrooms, spinach and low-fat cheese for a tasty and nutritious dinner omelette.
Layer On the Legumes
If you are vegetarian, or if you want to avoid eating meat every day, legumes are another excellent source of protein. You can whip up lentils, spices and some pureed vegetables into a hearty dahl, served with crusty whole-grain bread. Or you can mash up black beans and kidney beans, then mix them with herbs, slivered onion and egg whites to make healthy burger patties. Serve with tomato, lettuce and beetroot on whole-grain buns or tortillas.