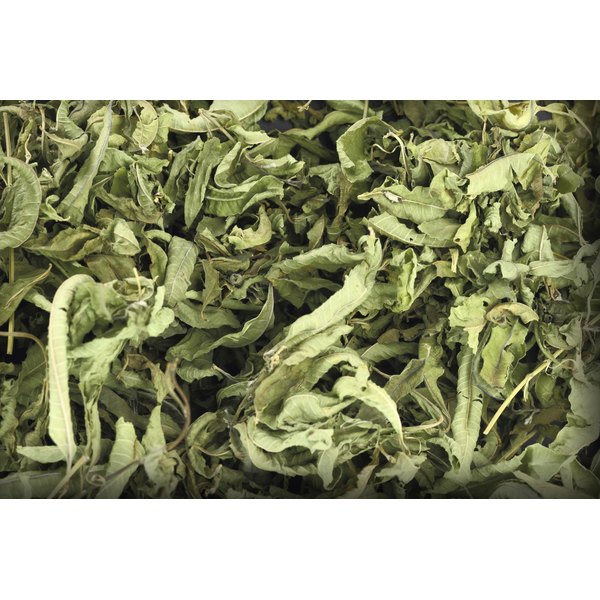 Lemon verbena is grown around the world, although it is native to Argentina and Chile. With tiny white blossoms and pointed, narrow leaves, lemon verbena, also sometimes called luisa, gets its name from the lemony fragrance of the leaves when they are crushed. Lemon verbena leaves are dried to make an herbal tea and can provide a number of protective benefits because of verbena's antioxidant content.
Hydration and Low in Calories
Herbal tea is a good way to keep your body hydrated throughout the day, which is important for healthy organ function. According to MedlinePlus, you should get six to eight glasses of fluids per day, and herbal teas can make up some, most or all of the recommendation. As a low-calorie drink, a single cup of herbal tea has only 2 calories per serving. It can substitute for higher-calorie beverages and potentially help regulate your "munchies," leading to lower overall calorie intake.
Protects Against Muscle Damage
A 2011 issue of the "European Journal of Applied Physiology" included a 21-day study where participants worked out for 90 minutes each day and took lemon verbena extract as an antioxidant supplement to their regular diet. Researchers found that lemon verbena reduced the amount of overall muscle damage the participants experienced, while not having any effect on their ability to build endurance and speed.
Effect on Joint Function
The "Journal of Alternative and Complementary Medicine" published a preliminary study in 2011 on the effect of lemon verbena and joint health. Over the course of nine weeks, 45 participants with joint problems took a dietary supplement of omega-3 fatty acids and lemon verbena. Researchers found that after a period of three to four weeks, participants taking the supplement showed a significant decrease in overall joint pain and an increase in joint mobility. Scientists found that the lemon verbena extract had strong antioxidant properties, and they recommended further research as the supplement showed great promise for alternative joint care.
Boosts the Immune System
The "Scandinavian Journal of Medicine and Science in Sports" published a study in 2012 that found that lemon verbena extract significantly reduced overall oxidative stress in athletes. Over the course of 21 days, participants took part in a moderate aerobic-training program, three days a week, and some consumed a 1.8-gram lemon verbena extract per day. Researchers found that, at the end of the study, those taking the supplement had stronger white blood cells, indicating a healthier immune system, and had fewer markers of oxidative stress, both of which could be attributed to the antioxidant properties of lemon verbena.