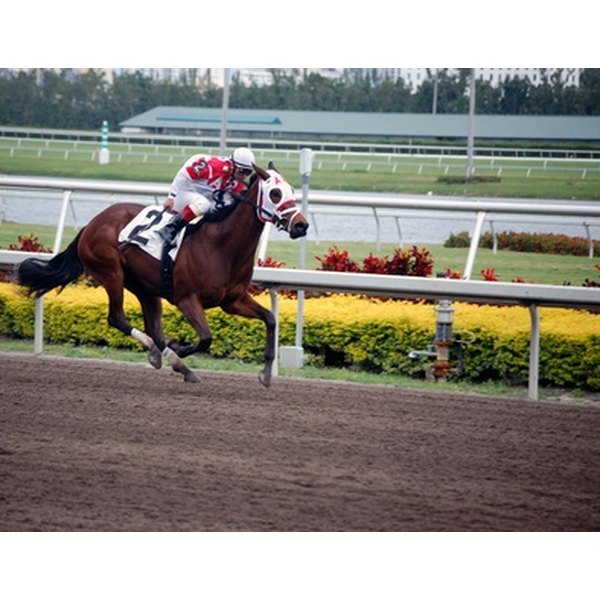 In every form of racing, weight is often the difference between winning and losing. This may not be any truer than in horse racing. According to Animal Planet, there is no height limit for jockeys, only weight limits. Typically, jockeys are required to weigh between 108 and 118 pounds. Races will set a combined weight limit, called tack, for you and your equipment to meet. The Kentucky Derby, as an example, sets 126 pounds as the limit. With weight being such an important part of your success as a jockey, dieting is a job requirement. Although there are numerous ways to shed weight, such as sweating in the sauna, a well-balanced diet can produce race-winning results.
Low Glycemic Diet
According to the Del Mar Times, sports nutritionists advise their jockey clients not to negatively affect metabolic rates or their cardiovascular system because of poor diet choices. You should plan on eating a minimum of three complete meals daily, consisting of breads, cereals and grains, along with plenty of fresh fruits and vegetables, non-red meats and low-fat dairy products. As with any diet, it is important you stay hydrated by drinking plenty of water with perhaps a sports drink to replace lost electrolytes.
Suggested Pre-Race Meals
SportsDietitians, a website based in Australia, provides an example for a pre-race meal for horse jockeys. They recommend eating two or three hours before the start of your race. Breakfast options you might consider consist of a breakfast cereal with low-fat milk, toast or pancakes with syrup. Lunch options include pasta with tomato sauce, or rice. A liquid meal replacement is fine on occasion, however, only as an option if healthy food is not available. Fruit is also an important part of any diet, and can be part of a smoothie, shake or yogurt. SportsDietitians recommends the pre-race meal be high in carbohydrates and low in fat and fiber, to reduce the chance of intestinal distress.
Real Meal
The reality is that most jockeys do not follow diets that offer sound nutritional principals. Many struggle to make the limited weight limits set by organizers of the events they wish to ride. An owner may also place additional weight demands on you as their jockey. Therefore, many diets resemble that of John Velazquez, a jockey who rode Cowboy Cal in the 2008 Kentucky Derby, and who appeared in an Associated Press pre-race article. Velazquez, weighing 114 pounds, has a half-cup of cereal for breakfast. He will have small amounts of coffee or water, as well as orange; banana slices throughout the day until finally eating dinner, his only real meal of the day.