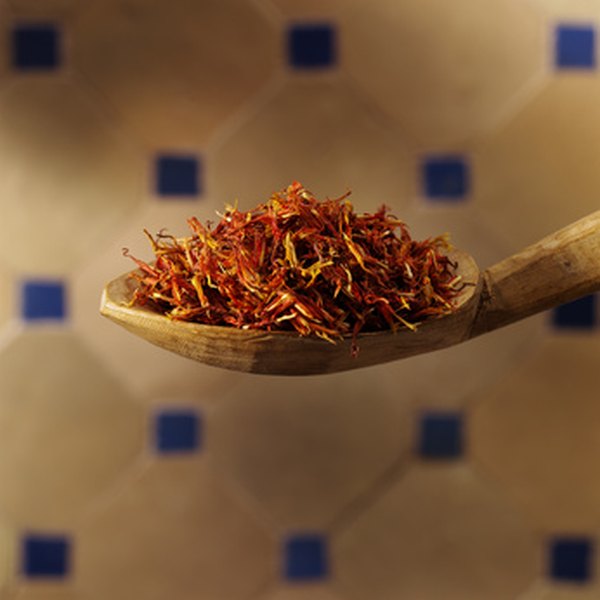 Taking saffron and vitamins is an easy and safe way to support a healthy body. Saffron is one of the most expensive herbs available, at up to $50 per ounce, and comes from the crocus sativus flower. Saffron is harvested by hand, and a little goes a long way. Saffron is used to relieve stomachaches and kidney stones and can be used to improve blood circulation. Other vitamins and minerals can be supplemented into the diet through capsules and tablets, or through food to support efforts at vitality and longevity.
Carefully toast threads of saffron in a medium to hot heavy skillet made of cast iron, and do not allow it to burn. Crush saffron threads with your fingers or use a tiny mortar and pestle to create a powder. Add the saffron to a liquid and soak for 5 to 20 minutes until fully dissolved. Add this "tea" mixture to a recipe as needed.

Soak saffron for three minutes, then crumble the treads directly into a food dish or soup recipe for a quick and more immediate solution to taking saffron.

Eat as colorful a diet as possible using seasonal, fresh produce that is farmed locally to obtain the highest nutritional content of vitamins and minerals. Food is the optimal medium for taking vitamins, as it provides a bio-available composition (easy to absorb and assimilate into the body) for vitamins and minerals, and can be easily digested to support every function of the body.

Add a multivitamin to your daily routine. Find a high quality "whole food"-based formula that is derived from actual foods. Avoid synthesized, single compounds such as vitamin C or vitamin A pills, as the body has difficulty assimilating single doses of individual compounds. No foods are created with one compound, but instead with many different compounds, which support the many systems of the body.

Warnings

Saffron must be used sparingly when cooking because too much of it can add a bitter flavor to the food and cause people to fall sick. More importantly, in large quantities, saffron is known to be lethal. Always discuss supplements with your family doctor.