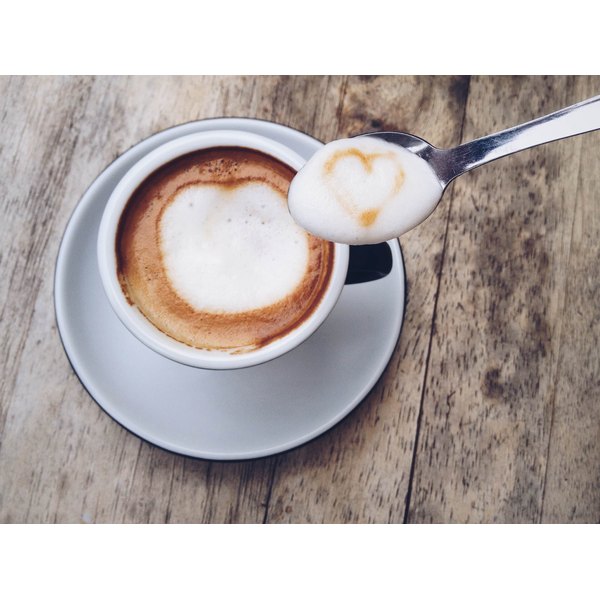 Caffeine during pregnancy is a controversial topic about which experts tend to disagree. Some say you should avoid the substance completely, even when trying to conceive, while others suggest moderate consumption of about 200 milligrams daily is safe. By understanding the possible risks that caffeine poses to your fertility and ability to conceive, you can decide if it's right for you to eliminate it completely from your diet. Consult your doctor, too, with any concerns you may have.
Inconclusive Research
Research hasn't consistently shown caffeine to have a significant effect on female fertility or ability to conceive. A study published in 2012 in "Epidemiology" showed a slight decrease in fertility among women who consumed soda regularly, while those who consumed up to 300 milligrams of coffee daily did not experience any change. Tea drinkers in this study actually experienced an increase in fertility. The Boston University researchers surmise that lifestyle factors, rather than caffeine intake, probably had a greater effect on the differences observed. Another study published in the "Medical Science Monitor" in 2010 also found no association between coffee and tea consumption and pregnancy rates.
If You're Having Trouble
Resolve: The National Infertility Association offers a word of caution on caffeine consumption to those having trouble conceiving. The association notes that animal studies have shown a compound in caffeine known as purine can prevent proper maturation of an egg, which negatively affects your ability to get pregnant. Mature eggs don't fertilize, and thus conception doesn't occur. Giving up coffee, tea, lattes, chocolate and soda may be challenging, but it certainly isn't dangerous.
Effects on Your System
Caffeine can negatively affect hormone levels or your fallopian tubes, although research hasn't supported these theories. The muscular movement of the fallopian tubes, which work to carry the eggs from the ovaries to the womb, may be disrupted by caffeine intake. A study published in the "American Journal of Epidemiology" in 1997 noted that incidences of infertility due to tubal disease or endometriosis were observed in women who consumed more than 7 grams of caffeine per month.
What About the Man?
Only one study suggests that caffeine consumption may negatively affect male fertility. Published back in 1989 in "Fertility and Sterility," the study found that men who drank coffee and smoked produced sperm with diminished motility and increased the proportion of dead sperm in semen. However, BabyCenter notes that caffeine may help a healthy man's sperm by stimulating their motility.
During IVF
IVF, or in vitro fertilization, requires a lot of financial and physical commitment on the part of the parents, so you want to create conditions that reap success. The 2010 study in "Medical Science Monitor" did find that caffeine consumption of about 450 milligrams daily during IVF did not affect pregnancy rates, but increased coffee consumption did correlate with a higher number of aborted pregnancies, and the number of viable embryos decreased in women who drank high amounts of tea. The researchers note that the caffeine passes into the follicular fluid and thus may affect the reproductive process. An earlier study, published in "Human Reproduction" in 2002, found that "usual" consumption of caffeine in women correlated with not achieving a live birth during IVF. An increase in the man's use of caffeine during the week of the procedure resulted in an increase in multiple gestations.