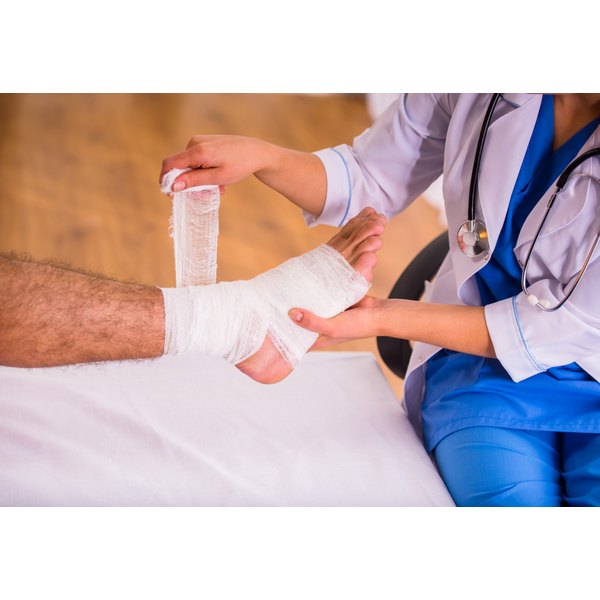 Hurting your ankle can be a scary experience, especially if you are unsure of the severity of the injury. According to FamilyDoctor.org, an information website produced by the American Academy of Family Physicians, if your ankle is swollen with any bruises but you are still able to walk on it, you may treat it at home. If, however, you experience any symptoms such as stiffness in both ankles, swelling that comes and goes, you have a fever, or more than one ankle is swollen and red, see your doctor right away. This could indicate a range of medical issues, possibly including rheumatoid arthritis, a bone fracture or a severe ankle sprain.
Rest your ankle for a few days. According to Health Learning Info, you should also ice your ankle three or four times a day for no longer than 20 minutes. Keep a towel between your ankle and the ice pack so your skin does not get frostbite.
Wrap a cloth bandage around your ankle to compress the injury. Elevate your ankle so that it rests above your heart. Elevation may help to reduce swelling and bleeding and speed up the healing process.
Slice some fresh ginger root in a few cups of water in a cooking pot two or three days after the injury took place. Soak a washcloth in the warm brew to make a warm compress to wrap on your ankle. Be sure the water is warm enough but not too hot to irritate your skin. Health Learning Info claims that ginger may aid healing.
Take some anti-inflammatory pills such as ibuprofen. Do not take enough to blunt the pain completely, as you want to be aware of your body and how it is healing.
Tips
Rest, ice, compression and elevation are the basic steps to follow to heal an ankle. Arnica gel may also help. It is a natural pain reliever made from the arnica plant that you can find at your local natural food store.
Warnings
Again, if you are unable to walk on your ankle and there is intense swelling or pain, you will want to call your doctor immediately. Also call your doctor if the pain comes and goes, but is sharp especially in the morning, or if clothing or bedding gently rubs against your ankle, causing pain.