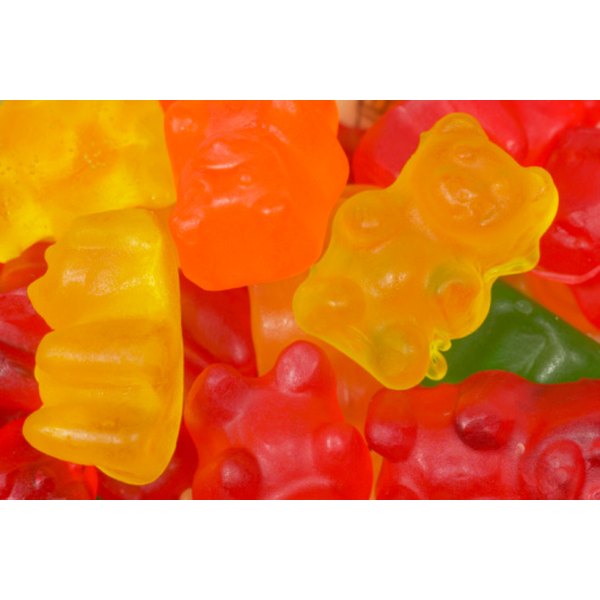 According to Mayo Clinic, experts still disagree on the necessity of multivitamins for children. Concerns include possible overdose of some vitamins and parents spending less time preparing a well-balanced meal because of confidence in the multivitamin products. Whether to give your child a multivitamin is up to you and your child's doctor. Getting your child to take a multivitamin is easier now than ever because of products such as the L'il Critters brand Gummy Vites. These gummy bears are packed full of vitamins and minerals without many unnatural ingredients.
Vitamins
According to L'il Critters, Gummy Vites contain the following vitamins: A, B2, B3, B5, B6, B12, C, D, E and K. Together these vitamins are responsible for supporting healthy development of numerous parts of a child's body. L'il Critters points out that everything from teeth to vision can benefit from the intake of vitamins. Mayo Clinic states a multivitamin should not replace a healthy diet, but it can be supplemented by products such as Gummy Vites.
Minerals
L'il Critters identifies the following minerals as ingredients in Gummy Vites: biotin, calcium, iron, folic acid, iodine and zinc. Biotin is responsible for promoting the development of nerves, bones, blood cells, hair and skin, according to the Mayo Clinic. Calcium benefits bones, teeth and nerve and muscle function, according to L'il Critters. Mayo Clinic and L'il Critters warn of accidental overdose of iron-containing products. Iron poisoning can be fatal but can be avoided by monitoring Iron intake in children. Folic acid, iodine and zinc all support functions such as digestion, cell reproduction and immunity.
Inactive Ingredients
In addition to vitamins and minerals, Gummy Vites have several inactive ingredients that help give the product its gummy texture and candy-like flavor. Per the product label on the L'il Critters' website, the following ingredients can be found in Gummy Vites: glucose syrup, sucrose, gelatin, citric acid, lactic acid, ascorbic acid, dl-alpha tocopherol acetate, retinyl palmitate, colors (annatto, black carrot and turmeric), natural flavors, cholecalciferol, pyridoxine HCl, cyanocobalamin, choline bitartrate, inositol, fractionated coconut oil and beeswax.