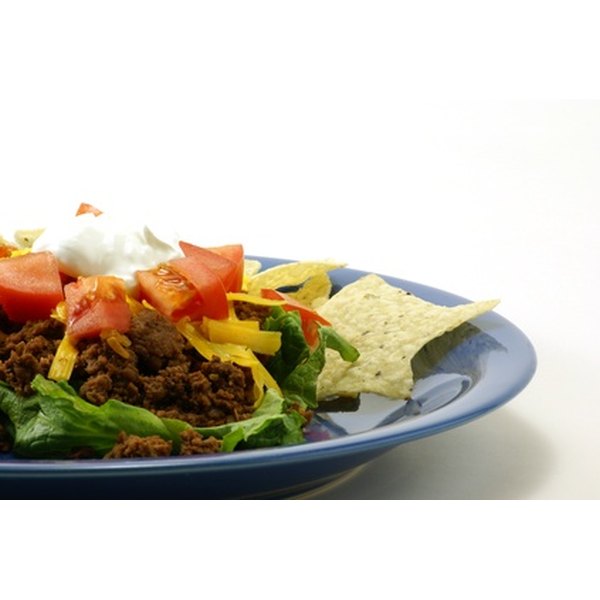 Fast food is often high in fat and filled with empty calories. One of the benefits of the Weight Watchers program is that it gives you choices -- and the fact that you can eat at Taco Bell with your family without feeling guilty is one of them. Plan before you head out to Taco Bell and write down low-point options that fit into your daily Points allotment. This allows you to stay on-program without feeling deprived.
Low Point
Taco Bell has few low-point, healthy options available on their menu. If you are heading to the restaurant and do not want to feel deprived, choose one Soft Beef Taco, one Tostada or a Double Decker Taco Supreme. The Soft Beef Taco and Tostada both calculate to five Weight Watcher Points per item. A Double Decker Taco Supreme is slightly higher with a Point Value of eight.
Fresco
Step away from the cheese-and-sauce-laden options and choose an item from the Fresco menu to use fewer of your Weight Watcher Points. Fresco is Taco Bell's method of lightening their products. Choose a Fresco Ranchero Chicken Soft Taco, Fresco Crunchy Taco or Fresco Spicy Chicken Soft Taco for approximately three Points each. This allows you to have two items without feeling guilty about eating fast food. Ask your local Taco Bell for a nutrition listing of their items, and use your Weight Watchers Points calculator to determine the value of other Fresco items.
High Point
Avoid high-point Taco Bell items as these have a negative affect on your weight-loss efforts. The seemingly healthy Taco Salad contains 18 or more Weight Watchers Points due to the large fried shell that holds the salad. If your heart desires a salad, do not eat the shell and save yourself approximately 10 points. Other high-point menu items that you should avoid are Nachos BellGrande and the Mexican Pizza, as these are all 13 points or higher items.
Beverages
The obvious choice for a low Weight Watchers Point beverage is a glass of water or diet soda. If these options do not appeal to you, choose a 16-ounce Classic Limeade Sparkler for three points. Avoid the high-calorie Fruitista Freeze and regular soda options, as these are high in points and have empty calories with no nutritional value.
Considerations
Weight Watchers members who eat at Taco Bell or other fast-food restaurants on a regular basis will benefit from purchasing the Weight Watchers Fast Food Companion available at meeting locations. You can also print the nutritional data found on the Taco Bell website and use the Weight Watchers Points Finder provided with your Getting Started packet. Calculate the Point value of your favorite items, and make healthier substitutions if needed.