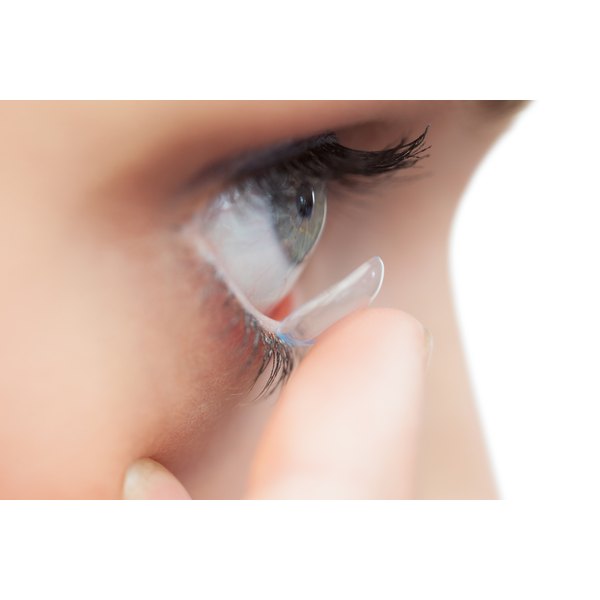 Of the 24 million Americans who wear contact lenses, about 80 percent wear soft lenses, according to the Ohio State University Medical Center. Most contact lens wearers continue to wear their lenses until they become torn, painful or lost. There are specific ways to handle soft lenses to avoid tearing the lens and help make them last longer.
Significance
Soft contact lenses are made from plastic and water. The Kellogg Eye Center at the University of Michigan notes that water in soft contact lenses makes the lenses soft and flexible. Soft lens material is healthy for eyes because it allows oxygen to reach the cornea, the outer layer of the eye. But the lens material is also delicate and can be damaged if not handled correctly.
Handle with Care
Soft lenses are fragile but durable. Finger nails are a common cause of contact lenses tearing. Removing lenses with the pad of the thumb and index finger, not the finger nails, helps avoid ripping and snagging a soft lens. Keep nails short and filed.
Rinsing and Storing Soft Lenses
Soft lenses tear and crack if they dry out. The U.S. Food and Drug Administration advises contact lens wearers to clean and disinfect lenses properly to avoid risk of infection. Use a rinsing solution prescribed by your eye care practitioner for your lenses. Always store your lenses in rinsing, storing or disinfecting solution; never store them dry.
Misconceptions
Children and teenagers take better care of contact lenses than adults. According to All About Vision, eye care practitioners say children follow contact lens care directions better than adults, who tend to become overly casual about caring for lenses after awhile.
Prevention/Solution
Lens tearing occurs frequently when a person takes a dry lens out of his eye. To avoid this, use a few drops of soft lens rewetting solution on the lens and eye before taking the lens out.