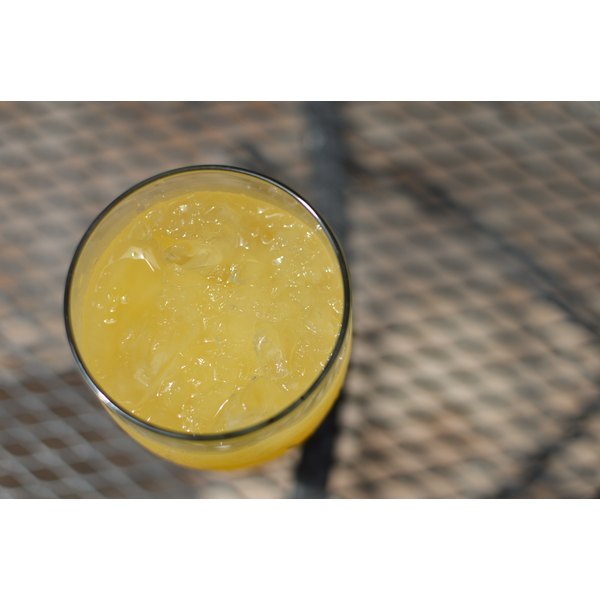 Emergen-C is a product produced by Alacer Corp. Emergen-C comes in a variety of flavors and sometimes has added ingredients such as minerals or herbs. But its general purpose is as a vehicle to deliver extra vitamin C into your diet. Each dose of Emergen-C contains 1,000 mg of vitamin C as ascorbic acid, zinc ascorbate and chromium ascorbate.
Use
To use Emergen-C, rip open a single-serve packet and pour it into at least 4 to 6 oz. of cold or hot water. Be prepared for it to fizz a little in cold water and fizz a lot in hot water. If the taste is too strong, dilute the mixture with more water. You can mix Emergen-C in your favorite fruit or vegetable juice, too, but in most cases the resulting flavor is not pleasant.
Supplement
Because Emergen-C is considered to be a nutritional supplement, it is available without a prescription. The FDA is responsible for monitoring supplement safety through voluntary adverse event reporting and taking action against unsafe products after they have come to market. However, it's up to the supplement manufacturer (in this case Alacer Corp.) to ensure that the product is safe before bringing it to market.
Quality
Alacer Corp. ensures the quality of its raw materials by monitoring their near infrared fingerprints. Near infrared fingerprinting or analysis is a method of identifying chemical compounds by their characteristic patterns of absorbing or transmitting infrared light. Any incoming raw material that does not match the approved near infrared fingerprint designation is rejected. The sweetening in Emergen-C comes from purified fructose--not high fructose corn syrup--and there is no MSG or artificial colors in Emergen-C. Another frequently asked question is whether the aspartic acid in Emergen-C is the same as aspartame. It is not.
Animal Ingredients
Most Emergen-C products are free of animal and animal derived products, but a few flavors are not. The Joint Health compound has chondroitin that's derived from cows. If you have a box that was made before March 2009, it might also have glucosamine derived from shellfish. The Pink Lemonade and Immune Defense flavors have honey in them, and a number of the multivitamin flavors have a form of vitamin D that is derived from lanolin, which itself is derived from wool.
Other Forms
Most varieties of Emergen-C are sold in boxes that contain about 30 single-serve packets. On occasion, individual packets are sold in health food and grocery stores. The only forms of Emergen-C not marketed in single-serve powder packets are the Super Gram vitamin C tablets and the Emergen-C Health and Energy Water, which is essentially bottled water with Emergen-C mixed into it.