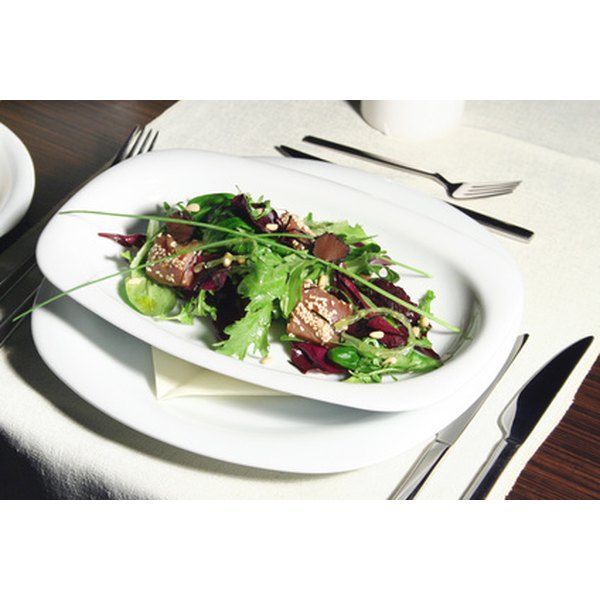 When you have a busy career, eating nutritious, well-balanced meals isn't always easy. Business trips present an entirely new set of challenges. Between dining out and trying to squeeze in healthy meals between meetings, you might find yourself at a loss. The stress of business trips, too, might make you reach for unhealthy foods you might not normally veer toward. Eating healthy meals and snacks while traveling for business requires making advance preparations and smart food choices.
Request a low-fat, low-calorie or vegetarian meal, if available, when flying. If your airline only serves snacks, skip the peanuts or chips and bring your own healthy snacks, such as carrot sticks with hummus, turkey slices and whole-wheat crackers, buffalo mozzarella and cherry tomatoes, fresh fruit, edamame and pumpkin seeds.

Reserve a hotel room with a refrigerator and microwave, if possible. Some hotels also offer rooms with kitchenettes equipped with stoves. Before arriving at your hotel, look online to find local grocery or natural-food stores. Stock up on healthy microwavable frozen meals; low-fat, low-sodium lunch meat; fresh fruits and vegetables; instant oatmeal; and whole-grain bread.

Turn down the mini-bar key at your hotel, which might tempt you to indulge in sodas, alcohol and high-fat, high-calorie snacks. Also avoid the urge to order room service, especially late at night. "Food eaten less than two hours before sleep does not get properly digested and leads to fitful rest, systemic imbalance and weight gain," says Renee Loux Underkoffler, author of "Living Cuisine." If you're hungry before bedtime, eat a piece of fruit and drink a cup of herbal tea, which can calm and soothe you before sleep.

Choose cereals, fruits and proteins if your hotel offers a continental breakfast. Avoid muffins -- which often look healthy but can contain 350 calories or more and 600mg of sodium -- bagels, pastries and doughnuts. Grab a couple of pieces of fresh fruit to enjoy as a snack later in the day.

Speak up when you're going to group lunches or dinners, and tell your co-workers or colleagues that you prefer to dine at restaurants that offer healthy options. If you wind up at a restaurant that primarily serves calorie-laden, high-fat, high-cholesterol meals, don't be afraid to make special requests. If you have food allergies, call ahead of time to make sure the restaurant can accommodate your dietary restrictions.

Watch your portion size at restaurants, and don't feel obligated to eat your entire entree. Many restaurant portion sizes are large enough for two meals or more and "are seriously out of whack with what nutrition experts recommend," says Carol Ann Rinzler, author of "Nutrition for Dummies." Instead of a rich, high-density appetizer, order a salad, clear soup or shellfish such as shrimp cocktail, Rinzler advises. Take leftovers back to your hotel room and store them in the refrigerator to enjoy the next day at lunch or as a snack.