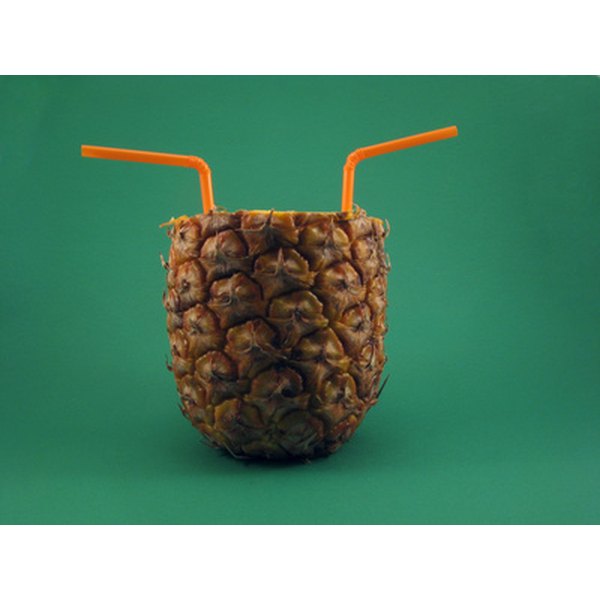 Pineapple, a member of the bromeliad family, is a tropical fruit. Fresh pineapple juice is packed full of nutrients in each serving including bromelain and vitamin C. It is important to drink it fresh, however, because canning processes often destroy beneficial enzymes in pineapple juice. One cup of of fresh pineapple has only 75 calories.
Anti-Inflammatory Properties
Fresh pineapple juice contains many nutrients, including the enzyme bromelain. Bromelain is a naturally occurring anti-inflammatory that can decrease swelling, point tenderness and pain. Pineapple juice may help reduce the recovery time from bruising, sprains and strains, according to the Centers for Disease Control and Prevention. Pineapple juice may also mediate rheumatoid arthritis symptoms, reports the CDC.
Immunity Boost
Fresh pineapple juice helps build up your immune system. It's high in vitamin C, which is a water-soluble vitamin that helps fight colds and infections. Bromelain assists vitamin C by battling respiratory conditions. According to the Feminist Women's Health Center website, bromelain helps the body break down mucus and can help treat asthma, pneumonia, bronchitis and sinus infections. One cup of fresh pineapple provides 23.87 mg of vitamin C. This is 39.8 percent of your daily recommended value.
Free Radicals
One cup of fresh pineapple provides you with 128 percent of your daily value of manganese, which helps the body remove free radicals in the cell mitochondria, reports World's Healthiest Foods website. Vitamin C is also an antioxidant. Antioxidants work together to help combat oxidation within the body; this helps decrease the amount of free radicals circulating through the body. Free radicals may cause damage to your body cells and contribute to diseases such as cancer.
Mouth Infections and Diseases
The vitamin C in pineapple juice also helps prevent mouth diseases. Daily intake will help battle gingivitis and periodontal infections by increasing the body's ability to kill foreign bacteria that causes these diseases, according to the CDC. The Feminist Women's Health Center website says pineapple can also help heal infected gum tissue and decrease the risk of heart disease, stroke and type 2 diabetes.
Digestive Aid
Bromelain helps balance and neutralize bodily fluids. Fluid that is too alkaline or too acidic can prevent digestion and cause stomach irritation. Drinking pineapple juice during or shortly after a meal helps with protein digestion. Vitamin C also assists the body in metabolizing fats and cholesterol. Vitamins in pineapple also increase iron absorption and help with amino acid synthesis.
Injury Healing
According to The World's Healthiest Foods website, pineapple has a nutrient density score of 9.4 out of 10. Foods high in nutrients provide the body with the compounds necessary to repair and rejuvenate tissue. Among other nutrients, vitamin C helps build and repair bodily tissue. A daily serving of pineapple promotes wound healing. Nutrients in pineapple help produce and rebuild collagen, which is an important component of your skin, cartilage and bones.