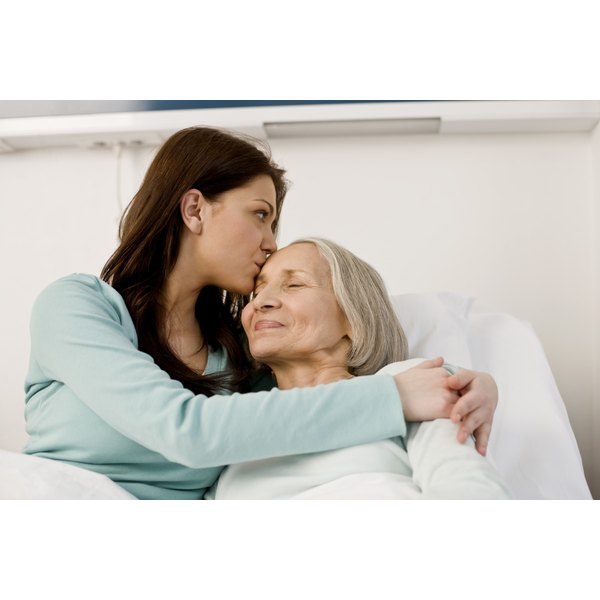 Many baby boomers find themselves in a position of caring for an elderly parent, which can create financial, emotional and physical challenges, according to the staff at A Place for Mom, a company that provides advice on senior living issues. Elderly parents and their caretaker children often find the reversal of roles challenging, as well as rewarding, especially when the elderly parent cannot live alone.
Caring for Mom
Elderly mothers often find it difficult to accept role reversal when a child must care for the parent. Even if your relationship has been relatively easy during your adult years, when you become the care provider, it probably won't fit comfortably for you or Mom, according to a "Huffington Post" article entitled, "15 Ways to Stay Sane While Caring For an Elderly Parent." Allow your mom to make decisions when you can, such as where to go for lunch or how to spend the day with you. Accept that making decisions for her, such as whether she can safely drive or handle her finances can make her angry. If she isn't grateful for all that you do for her, take it in stride -- you probably weren't fully grateful for her care when you were younger.
Caretaker's Emotions
Many adult children caring for elderly parents experience guilt, according to Dr. Suzanne Koven, M.D., a primary care physician in internal medicine, in the Boston Globe article, "The Guilt of Caring for Elderly Parents." You might feel guilty that you can't visit as often as you like if Mom doesn't live with you, or feel guilty when you lose patience with her if she does. You might also feel guilty because you can't return your mom's health, the family members and friends she misses or allow her the independence she desperately wants. Your mom's declining health can cause you to worry about your own future decline and how you will cope when you are in her position. Talk with a good friend or counselor to help you sort your feelings when you feel overwhelmed. Take care of yourself so you can take care of Mom.
Sharing the Load
Very often one child must take primary responsibility for the elderly parent, according to the University of California, San Francisco. While every family member might not be able to take on a major role, ask your siblings for input on various facets of Mom's care. One of you might manage finances while another provides hands-on care or visits regularly at the care facility where mom must live, suggests a "Huffington Post" article titled "Team Mom: Boomers Will Have to Work Together to Care for Their Parents." Include Mom in those decisions, too. Get input from her medical team and let them know when you see signs of declining health issues.
Advanced Planning
Plan in advance for health care decisions such as advanced directives that let you know what Mom wants to do about life support or funeral arrangements. If finances are strained and Mom has a life insurance policy, investigate life insurance settlement policies that can assist financially with Mom's care, suggests a "New York Times" article entitled, "A New Way to Pay for Long-Term Care." Advanced planning may save you money, family disagreements and uncertainty when the times come when you can either no longer care for Mom or when she dies.