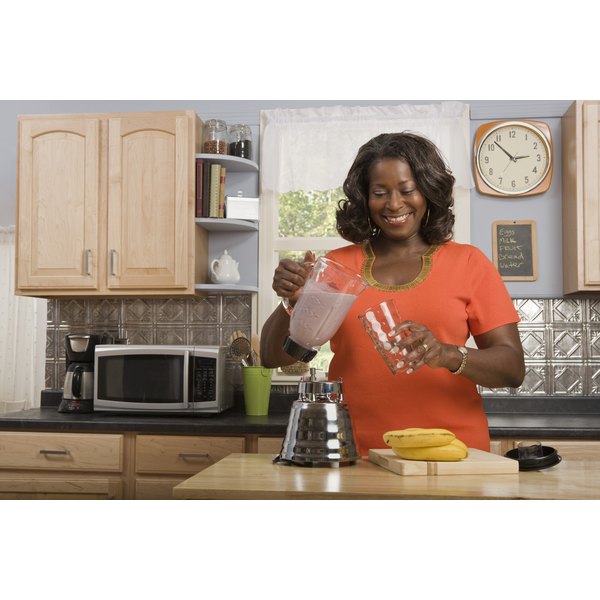 The convenience factor of a smoothie breakfast can't be overstated -- it only takes minutes to whiz together an icy concoction, and with a portable cup, you can then take it on the road to work, school or wherever your day takes you. Smoothies can be as healthy or unhealthy as you choose. With the right ingredients, a healthy smoothie can help you lose weight by keeping you feeling full on the right number of calories.
The Right Ingredients
To build a healthy, filling smoothie, "Fitness" magazine suggests four main ingredients. Start with a liquid base, such as low-fat or nonfat milk to boost the smoothie's vitamin D and calcium content. However, if you prefer a non-dairy option, soy or almond milk suffices, as does plain water. Add a serving of lean protein such as plain nonfat Greek yogurt, silken tofu or unflavored protein powder, and then a small amount of healthy fats. Choose monounsaturated fats, such as avocado -- it will also boost the creaminess factor of your smoothie. Round it off with high-fiber carbs in the form of fruits and vegetables; raspberries and blueberries pack the most fiber punch with the lowest amount of sugar.
Adding Veggies
Smoothies are traditionally considered to be made from fruit, but adding a serving or two of vegetables can boost the nutritional content even more. Dark leafy greens are some of the most nutrient-packed foods; with a blender with a strong blade, you can blend kale, spinach or collards into your smoothie. If taste is a concern, combine them with strongly flavored fruits such as banana. Your smoothie might be a strange color of green or brown, but you'll get extra vitamins, minerals and fiber. Other nutritious vegetable options for smoothies include carrot, cucumber and pumpkin.
Creative Combos
A strawberry-banana smoothie might be the standby, but branch out into unexpected flavor combinations to keep your weight-loss smoothies interesting and satiating. "Fitness" magazine recommends blending nonfat Greek yogurt with spinach, pears, grapes, avocado and lime juice for a sweet-tasting, but nutrient-packed smoothie that has just over 300 calories, 21 grams of protein and 9 grams of fiber. Dr. Mehmet Oz's website recommends combining a little bit of cocoa powder with natural peanut butter, a banana and Greek yogurt for an energy-boosting smoothie that's less than 250 calories with 16 grams of protein. If your main goal is weight loss, the key is to keep the calories low -- "Eating Well" recommends aiming for a maximum of 300 calories per serving if it's a snack and 300 to 400 calories if it's a meal replacement.
What to Avoid
It's easy for a seemingly healthy smoothie to turn into a calorie or sugar bomb with the addition of just a few ingredients. To keep yourself on the path to losing weight, "Eating Well" recommends skipping full-fat dairy products, sugar-sweetened fruit juices or concentrates, flavored yogurt or full-fat coconut milk. Additionally, avoid using ingredients that make it more like dessert than a healthy breakfast or snack; this includes ice cream, sherbet, chocolate syrup and whipped cream.