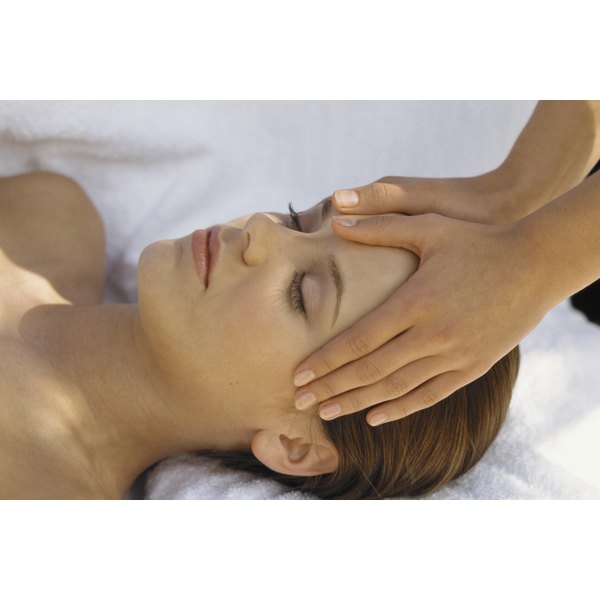 Emotional imbalance, stress, and unresolved feelings are common causes of food cravings and unhealthy eating patterns, according to traditional Chinese medicine, or TCM. All of these factors can deplete your personal vital energy, called "qi" in TCM. Stimulating key acupressure points can help you restore the abundant flow of qi and resolve negative emotions. Combine acupressure with healthy eating choices to refresh your energy and ease unhealthy cravings.
Theory
Depleted energy and poor food choices create a vicious circle. Eating junk food can deplete your qi, but if your qi is depleted, chances are you'll crave junk food, according to Michael Reed Gach, founder of the Acupressure Institute in Berkeley, California, and author of "Acupressure for Emotional Healing." The acupressure points that work to help you release unwanted weight also help to open the channels through which qi flows, replenishing your system and limiting junk food cravings.
Technique
One of the most effective forms of acupressure for weight loss is the Tapas Acupressure Technique, designed by acupressure expert Tapas Fleming. In addition to stimulating certain acupoints, the TAT technique invites you to address any thoughts and feelings that might make weight loss seem difficult or impossible to you, according to TATLife, the website of the Tapas Acupressure Technique.
Key Points
A simple routine massage of points on your shoulders, face, and chest will help you boost your energy and fight food cravings, according to Acupressure Online. Begin with the GB 21 points that sit on top of each shoulder. Find the points by tracing a straight line directly up from each nipple. Massage the top of each shoulder in firm, downward strokes for one minute. Use firm pressure and small circular motions to massage the B1 points on each side of the bridge of the nose -- next to the inner corner of each eye -- for one minute. Place a finger in the center of your forehead, level with your eyebrows. Stimulate this point, called the Yin Tang, with firm upward strokes for one minute. Massage GV26 -- a point that sits in the center of your face between your nose and upper lip -- for one minute with downward strokes. Finally, locate the point CV27, also called the Sea of Tranquility, in the center of your chest, in line with your nipples. Apply upward strokes for two minutes.
Expert Insight
One of the biggest challenges to weight loss is maintaining it, notes internal medicine physician Charles Elder, in a 2008 online interview published on the website of the Center for Health Research. In a pilot study of TAT, Elder noted that acupressure demonstrated a higher level of success than social support or breathing exercises in helping people maintain weight loss.
Considerations
Acupressure for weight loss does more than help you curb food cravings; it allows you to open stale energy channels, remove any internal blockages, and delivers nourishment to all parts of the body, notes Shoshanna Katzman in her book "Qigong for Staying Young." Katzman directs the Red Bank Acupuncture and Wellness Center in Tinton Falls, New Jersey. Give your body the support it needs for the healthy circulation of qi by gradually switching to a diet that emphasizes lightly cooked vegetables, moderate amounts of protein, and whole grains.