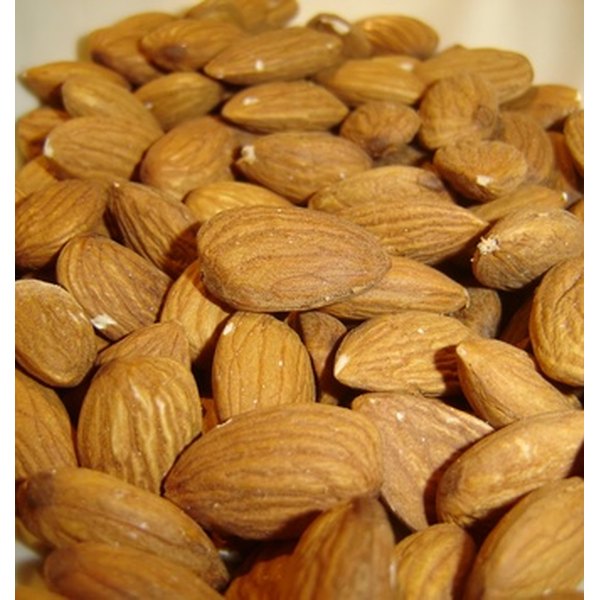 Whether you consult an activity chart or use a complicated formula, you'll see that cross country runners burn lots of calories during practices and meets. Like any athlete, a runner needs to eat a healthy, balanced diet for strength and stamina while still taking in more calories than the daily recommended amount for active teens or adults. Eat a balanced, high-calorie and healthy diet by beginning first thing in the morning and continuing throughout the day.
Eat Breakfast
Add high-calorie extras to your breakfast cereals. Bananas, toasted nuts, raisins or cranberries give you good nutrition and lots of extra calories.
Drink a glass of fruit juice. Choose juices without added sugar or invest in a juicer to make your own orange, pineapple or apple juice.
Add a half-cup of fresh fruit to your breakfast. Nutrient-dense cantaloupe during summer and orange segments during winter will wake up your taste buds and add calories.
Eat a piece of whole-grain toast spread with peanut butter in addition to your breakfast cereal.
Eat Morning and Afternoon Snacks
Carry a baggie with nuts and dried fruit in your pocket or purse for a mid-morning snack between classes or during your morning break.
Make peanut-butter-and-cracker "sandwiches" in the morning to eat as morning or afternoon snacks.
Carry portable cheese sticks or power bars for snacking.
Buy single-serving energy gel packs to eat before running; these give you quick energy and easily accessible carbohydrates.
Eat snacks and drink energy drinks immediately after running. Cross country coach Jim Garrissere explains that these are particularly important for replenishing electrolytes.
Eat a High-Calorie Dinner
Eat complex carbohydrates such as brown rice, whole-grain pasta and beans for calorie-dense dinners, the Every Diet website instructs.
Eat high-calorie fish, such as salmon and tuna.
Add extra ingredients to foods you already eat. Add cheese on top of casseroles, soups and eggs. Or add avocado slices, nuts or beans to salads.
Eat dessert after dinner. Consume healthy desserts such as yogurt and fruit pies; Garrissere recommends a smoothie made with yogurt, fruit, honey and flaxseed oil with dinner or as a snack.
Tips
Peanut butter contains 400 calories per quarter-cup; cashews have 195 calories per quarter-cup; raisins have 130 calories per quarter-cup; and 4 ounces of salmon has 262 calories, Every Diet calculates.
Warnings
Consult your doctor before beginning any new diet.