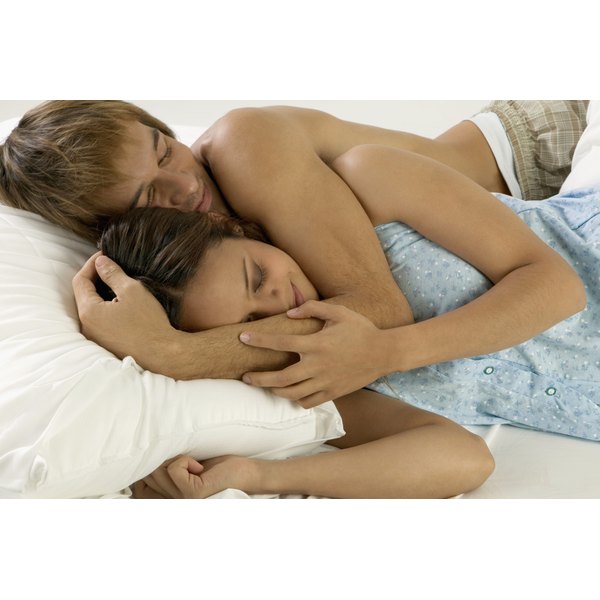 Although professionals currently debate if a lack of stamina is a physical, emotional or relational problem (or perhaps a combination of all three), an easy rule to remember is whatever is good for your body, mind and relationships, is good for your sexual stamina. Research has linked sexual stamina to all three of these areas of personal functioning, demonstrating that a holistic perspective on sexuality may just be the key to a healthy sex life.
Improving Sexual Stamina
Improve Your Physical Health Regular sleep is the foundation of all our bodily and mental functions. Along with regular sleep, eat right, avoid excess weight gain and exercise regularly--both muscle training and cardiovascular fitness.

Improve Your Emotional Health Learn effective stress management and allow yourself to takes breaks from work as needed. Regular vacations and other self-care behaviors are essential.

Examine You Relationship Resolve relational issues such as unfinished emotional business, or unresolved conflicts which could be creating barriers to sexual intimacy and affecting your stamina.

Talk and Experiment With Your Partner Some people either get out of the habit of talking and experimenting with sex, or they never develop the skill to start with. To maintain interest and thus the psychological components of stamina, get into the habit of discussing sexual matters and new things to try out.

Be Spontaneous It does not matter how the routine got started, nothing can kill sexual stamina quicker than a predictable sex routine. Find ways to integrate the unexpected into your sex life.

Learn the Meaning of Eroticism Eroticism is not the same as sex, and the term itself carries very specific meanings for each individual. Through conversation with your partner, learn what they consider erotic, and share your own erotic fantasies.

Seek Sex Therapy There are several sexual disorders that can underlie a decrease in sexual stamina, and a good evaluation followed by brief sex therapy can really improve stamina.

Tip

It is normal for sexual stamina to vary temporarily. However, since sexual stamina is linked to physical health, consult your doctor if you notice a drastic or sudden decrease lasting more than 30 days.

Be patient. Although it can be frustrating trying to figure out how to improve sexual stamina, there is plenty of professional help if your efforts do not pay off.

Buy a book on sexuality, such as "Men's Sexual Health: Fitness for Satisfying Sex." These books offer a wealth of information on the multifaceted nature of sex.

Before seeking a solution in herbal, over-the-counter or prescription remedies, attempt improvements in your health, which may improve not just your sexual stamina, but your overall quality of life.

Warnings

Sexual activity can be very strenuous and calls on the heart and cardiovascular system to perform at elevated levels. If you are experiencing problems with sexual stamina, please speak with your physician before attempting any of these steps to make sure you are healthy enough to engage in sex.