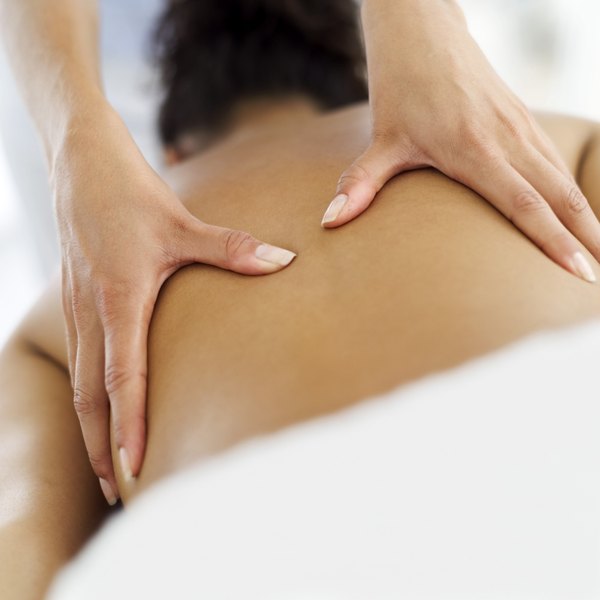 The skin lesions and inflammation of psoriasis do not have to stop you from enjoying the soothing benefits of a massage. Like psoriasis, a massage goes more than skin deep. During a session, a massage therapist may rub or push on your muscles and joints. To ensure a positive experience, it's important that your therapist understand all of your symptoms, especially if you have psoriatic arthritis. Communication and prior planning are key to getting the most out of your massage.
Benefits
Psoriasis-related symptoms and response to treatment vary widely among individuals. Some people with psoriasis have gained relief from joint pain after a massage. Others find that it reduces stress, a common trigger of psoriasis symptoms. In addition to these potential benefits, the relaxing aftereffects of massage may help you deal with the social and physical difficulties of coping with the condition.
Selection
Licensing or certification helps demonstrate that a therapist has the training and experience to deliver safe, effective massage. Most states offer licensing programs for massage therapists. In the few states that do not license massage therapists, certification may still be available through a professional organization or local licensing agency. Never hesitate to ask for a therapist's credentials before agreeing to a massage.
Communication
Qualified massage therapists should be more than willing to discuss your psoriasis and how it will affect their approaches to your massage. Before starting therapy, don't hesitate to ask if the therapist has experience working with psoriasis patients and if she is comfortable treating your condition. Other key topics can include the benefits you can reasonably expect from massage, and how long you can expect to wait before seeing positive results. Be prepared to discuss your personal goals for massage so that the therapist can help you set realistic expectations.
Therapy
It's important to keep communication flowing as you begin treatment. At the start of the session, mention any areas that feel inflamed or sore. If you're sensitive to oils or other materials on your skin, let the therapist know. Keep communicating throughout the session, especially if the therapist is working near lesions or affected joints. Tell the therapist if your skin starts to hurt, itch or sting during the massage.
Risks
Since individual triggers to psoriasis are so varied, it can be difficult to predict the consequences of a massage. One effect of massage is to increase blood flow to the skin, which can trigger a flare-up of psoriasis. In addition, bruising or other skin damage can aggravate psoriasis symptoms.
Misconceptions
Misunderstandings about psoriasis remain common, even among health and wellness professionals. Be prepared to explain that psoriasis is not contagious, that physical contact will not necessarily make the symptoms worse, and that you have realistic expectations for symptom relief.