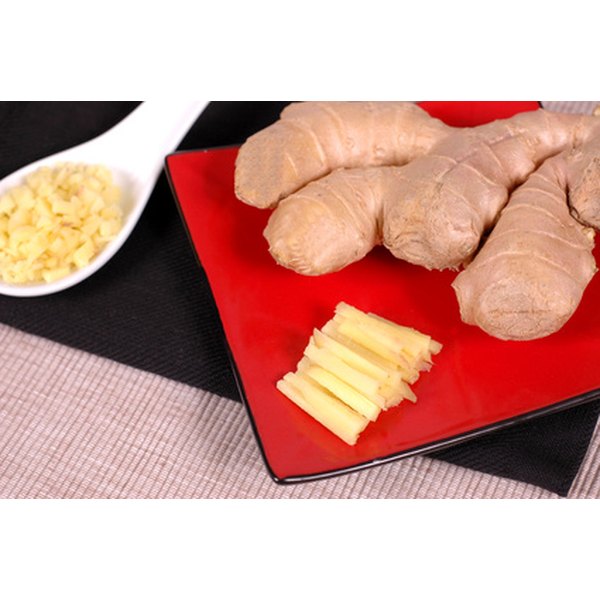 The rhizome of the zingiber officinale is more commonly called ginger or ginger root. It is used fresh or dried and can be found in Asian cuisine and in many dessert dishes. As an herb, ginger is used in traditions around the globe. Fresh ginger is readily available in the produce section of most grocery or health food stores.
Description
Zingiber officinale is a native to the tropical climate of Asia where there is moist, fertile soil. The plant grows to about 1 foot tall, with green, narrow leaves, and has flowers that range in color from white to a yellow-green. The fleshy root is a light brown in color, with several "fingers."
Nutritional Data
Ginger is generally prized for its use as an herb or flavor as a spice and not as a nutritional supplement. According to Self NutritionData, a 2-gram piece of ginger contains only 1.6 calories, 0.7 mg of omega-3 fatty acids and 2.4 mg of omega-6 fatty acids. It provides 0.1 mg of vitamin C and 0.2 mg of folate. Ginger also contains minute amounts of minerals: 0.3 mg of calcium, 0.9 mg of magnesium, 0.7 mg of phosphorus, 8.3 mg of potassium and only 0.3 mg of sodium.
Medical Benefits
Ginger is traditionally used to ease nausea and vomiting. According to the Mayo Clinic, ginger can reduce nausea due to chemotherapy. Research by E. Ernst and M.H. Pittler published in the March 2009 issue of the "British Journal of Anaesthesia" showed ginger to be effective in reducing nausea caused from morning sickness, seasickness and nausea from chemotherapy. In an article published in the May 2007 issue of "Food and Chemical Toxicology," an international journal published for the British Industrial Biological Research Association, author Y. Shukla and M. Singh stated that ginger contains constituents with strong antioxidant and anti-inflammatory properties, some of which have the ability to help prevent cancer.
Herbal Benefits
Ginger is a stimulating herb, and according to herbalist Michael Tierra, drinking a hot tea made from ginger can increase cardiovascular circulation and rush warmth to the body. This is especially helpful if you suffer from a cold or have poor circulation in the hands and feet. Traditionally, ginger has been used to ease nausea and vomiting associated with colds, the flu and motion sickness and to reduce joint inflammation.
Warnings
According to the University of Maryland Medical Center, side effects of ginger are rare, but extremely large doses can cause heartburn, mouth irritation and diarrhea. Avoid ginger if you have any bleeding disorder or are taking an aspirin regimen. Consult your physician before taking ginger if you have gallstones or if you plan to take it regularly.