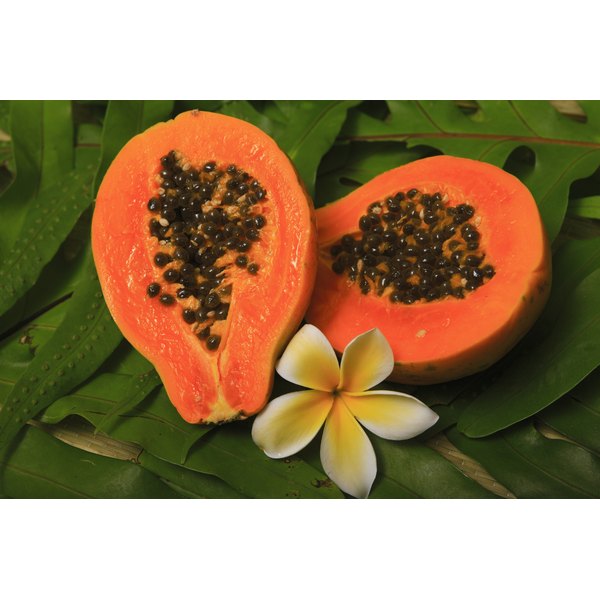 A native of the tropical Americas, papayas have a place in several worldwide cuisines, including Brazilian and southern Asian cuisines. Papaya juice boasts all the vitamin and mineral content of whole papayas, which makes it a beneficial addition to your diet. Be careful, however, when shopping for papaya juice -- you might accidentally pick up papaya nectar, which lacks the nutritional value of real juice.
Potassium and Copper
Add papaya juice to your diet, and you'll boost your intake of potassium and copper. Copper and potassium both help your nerves communicate with each other. Copper also strengthens your connective tissues, while potassium promotes cardiovascular health. Each 1-cup serving of papaya juice contains 489 milligrams of potassium and 121 micrograms of copper. This provides 10 percent of your daily recommended potassium intake and 13 percent for copper.
Vitamin C and Folate
Papaya juice also comes packed with vitamin C and serves as a source of folate. Getting enough folate in your diet maintains tissue health because folate helps you make the proteins and DNA needed for new cell growth. Vitamin C also promotes tissue strength by boosting the production of collagen, a fibrous protein found in your bones, skin, tendons, blood vessels and other tissues. Each cup of papaya juice provides 164 milligrams of vitamin C -- your entire recommended dietary intake -- and 99 micrograms of folate, or one-quarter of your daily folate requirement.
Vitamin A and Lycopene
Papaya juice's warm hue comes from its carotenoid content. Some of these carotenoids serve as sources of vitamin A, while one other carotenoid, called lycopene, fights disease. The vitamin A you get from papaya juice plays a role in retinal function, helping your eyes detect light and color. Lycopene offers antioxidant protection to prevent tissue damage and might help reduce the risk of prostate cancer. Each cup of papaya juice boasts 2,552 international units of vitamin A -- 85 percent of the recommended daily intake for men and more than 100 percent of the recommended daily intake for women. It also provides 4,910 micrograms of lycopene.
Reach for Juice, Skip the Nectar
Several commercial papaya beverages are actually papaya nectars that contain ingredients other than papaya juice, such as added sugar. Papaya nectar contains more calories than papaya juice -- 144 per cup, compared to 115 for juice -- and contains 35 grams of sugar per serving, compared to papaya juice's 21 grams. It's also much lower in nutrients. For example, a cup of papaya nectar provides a paltry 7.5 milligrams of vitamin C and just 78 milligrams of potassium. Check the nutrition label to make sure that you purchase 100 percent papaya juice instead of papaya nectar.