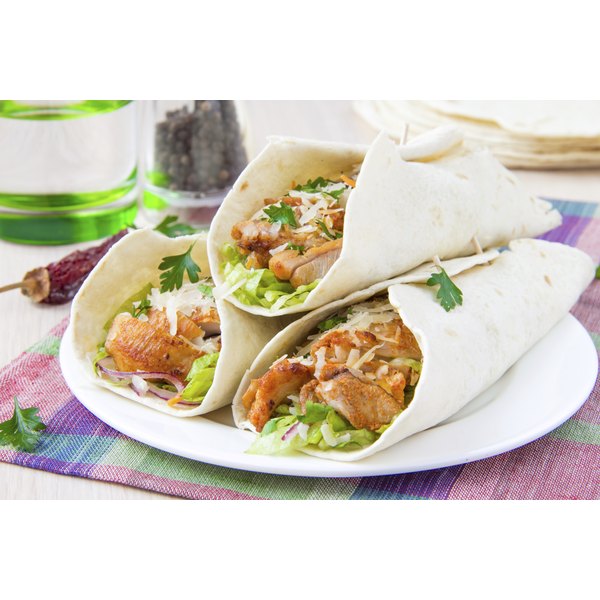 Lunch foods do not always have to be large sandwiches and greasy burgers or pizza. There are many low-carbohydrate options available. According to the website Carbs-information, the benefits of a low-carb diet include weight loss, more-stable blood-sugar levels and better cholesterol along with lower triglycerides. It might be easiest to stick to your low-carb diet plan if you make your lunch at home.
Chicken
Chicken itself is a zero-carbohydrate food, although adding dressings or other things can increase the amount of carbs. According to website Low-Carb-Diet-Recipes, chicken is a filling lunch food that is also very versatile. You can prepare chicken by boiling, barbecuing or stir-frying. Use boiled chicken in chicken salads or chicken wraps, eat grilled chicken plain or put it on tossed greens, and mix stir-fried chicken with fajita vegetables and put it on low-carb tortillas.
Vegetables
Pack a lunch of vegetables such as celery, carrot sticks and peppers. According to a story from CBS news, vegetable-based, low-carb diets are healthier than animal-protein-based diets. You don't have to cook vegetables; you can take them in plastic bags or containers. Dipping vegetables into dressings and sauces adds flavor but also adds carbohydrates.
Roast Beef Rollups
According to "Tasty Low Carb Lunch Ideas" on the website Sheknows, roast beef rollups are a good way to get a hearty lunch without loading up on carbs. Lay out 16 thinly sliced, 1-ounce slices of roast beef, and evenly divide 4 ounces of thinly sliced muenster or provolone cheese between them. Dab a small amount of mayonnaise and mustard on each slice of cheese, and add any type of lettuce on top of the cheese. Roll up the roast beef. According to the website, there are about 70 calories in one roast beef rollup; use different combinations of ingredients so you don't get bored.