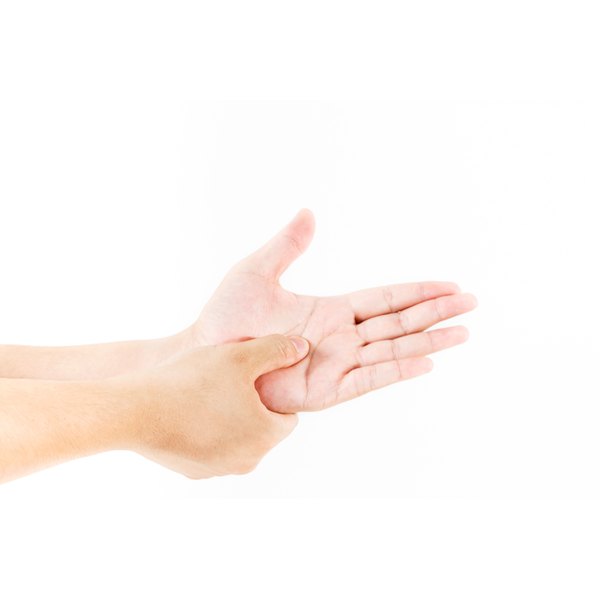 Arthritic conditions are quite common in the United States, with the majority of cases affecting women, according to the Centers for Disease Control and Prevention. Arthritis is a general term for painful, stiff and swelling joints. The CDC projected that the number of cases of arthritis would increase more than 34 percent between 2005 and 2030. Studies have been performed to assess the efficacy of calcium, magnesium and zinc in the treatment of arthritis. Some studies have shown promising results, while others were less conclusive. Consult your health-care provider before taking any supplement.
Calcium
An analysis performed by the Cochrane Musculoskeletal Group in 2003 combined the results of five studies involving a total of 274 patients. The researchers demonstrated that calcium and vitamin D prevented significant bone loss in patients with osteoporosis, osteoarthritis and rheumatoid arthritis. The findings stated that all patients receiving steroid treatment, especially those for arthritic conditions, should be given calcium. A study published in 2008 in "Arthritis Rheumatology," meanwhile, assessed whether oral calcium supplementation was beneficial in rheumatoid arthritis in children. Contrary to the Cochrane study, these researchers found that although calcium absorption was increased when taken with vitamin D, neither vitamin D nor calcium improved bone mass in children.
Magnesium
A study published in "Rheumatology" in 1979 compared the effects of choline magnesium trisalicylate, or CMT, with the effects of acetyl-salicylic acid--which is plain aspirin--on rheumatoid arthritis. CMT was found to have superior results, producing a greater reduction in swollen joints. CMT is a non-steroidal anti-inflammatory drug containing magnesium. In 2002, the "Journal of the American Medical Association" published an article on the relationship between chronic diseases, and vitamins and minerals. This study showed that magnesium is useful in therapy for cerebral edema, chronic fatigue, constipation, diabetes due to insulin resistance and cardiovascular disease, but had no indications for joint problems such as arthritis.
Zinc
In the same study published in the "Journal of the American Medical Association" in 2002, zinc was found to produce a significant reduction in osteoporosis and rheumatoid arthritis. Doses greater than 150 milligrams of zinc, however, were shown to reduce magnesium and copper levels in the body. On the other hand, an article published in 2008 in the "Archivum Immunologie et Therapiae Experimentalis" indicated that oral zinc was found to be ineffective in rheumatoid arthritis therapy.