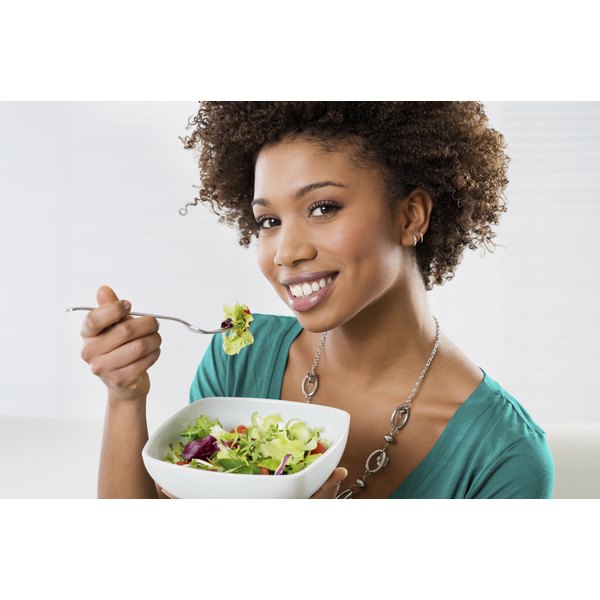 Getting enough vitamin B-6, a water-soluble vitamin, helps maintain more than 100 different enzyme reactions in your body. It also supports brain function; metabolism of proteins, carbohydrates and fats; proper immune function; and red blood cell formation. According to the Institute of Medicine, men and women under the age of 50 need at least 1.3 milligrams of B-6 per day, men over 50 need at least 1.7 milligrams and women over 50 need at least 1.5 milligrams. Your body cannot make or store B-6, so it must come from your daily food intake. Eating a well-balanced, whole-food-based diet helps you meet your daily requirements.
Animal Products
One way to get vitamin B-6 is by eating animal products and proteins. A 3-ounce serving of beef liver, for example, contains 0.9 milligram of B-6. According to the U.S. Department of Agriculture's National Nutrient Database, a 3-ounce portion of tuna or salmon gives you 0.8 to 0.9 milligram. Other seafood -- such as 3 ounces of halibut, bass, trout, haddock or mackerel -- supplies 0.5 milligram. If you prefer poultry, 3 ounces of chicken breast or ground turkey provides 0.9 milligram as well. Red meat is a good source of B-6 too. A 3-ounce serving of steak or pork contains 0.7 milligram, and 3 ounces of venison, bison or elk has 0.5. Even dairy products contain some B-6. A cup of milk or 8 ounces of yogurt has 0.1 milligram.
Vegetarian Proteins
According to the USDA National Nutrient Database, many beans, vegetarian products made from beans, nuts and seeds are good sources of B-6. A cup of canned chickpeas supplies the most with 1.1 milligrams of B-6. Vegetarian patties and burgers contain anywhere from about 0.3 to 0.9 milligram. A cup of soy milk has about 0.6 milligram, and a 3-ounce portion of tofu, made from soybeans, provides roughly 0.4 milligram. Cooked lentils, split peas, lima beans and northern beans give you 0.3 to 0.4 milligram per cup cooked. If you'd rather eat nuts, a 0.25-cup serving of pistachios, sunflower seeds, hazelnuts, walnuts or peanuts gives you 0.2 to 0.5 milligram.
Fruits and Vegetables
Nearly all fruits and vegetables contain some amount of vitamin B-6. Including at least five servings of fruits and vegetables per day can help you meet your need for B-6. A large baked potato supplies 1.1 milligrams. A cup of canned tomato sauce has 0.7 milligram. To get 0.5 milligram, eat 1 cup of cooked sweet potato or brussels sprouts. Winter squash has 0.4 milligram per cup, and 1 cup of bell pepper, sweet corn, asparagus, bok choy or peas provides 0.3. Fruits are slightly lower in B-6 than most vegetables. A medium banana provides 0.4 milligram. A cup of melon has 0.3 milligram, and 1 cup of mango has 0.2. Many dried fruits, such as prunes and raisins, provide roughly 0.2 milligram per 1/2 cup.
Whole-Grain Foods
Grains and foods made from them contain varying amounts of vitamin B-6 to help you meet your daily needs. Many breakfast cereals are fortified with vitamin B-6, meaning the vitamin has been added to enhance the nutritional value. Ready-to-eat cereals can contain up to 2 milligrams per serving. One-half cup of fortified oatmeal usually provides about 0.5 milligram. Eating 1/4 cup of wheat germ gives you 0.4 milligram. A 1-cup serving of cooked brown rice or quinoa has 0.2 to 0.3 milligram. Whole wheat flour has 0.2 milligram per 1/2 cup, making baked goods, such as pancakes, waffles, whole wheat bread, muffins and crackers, sources of B-6 as well.