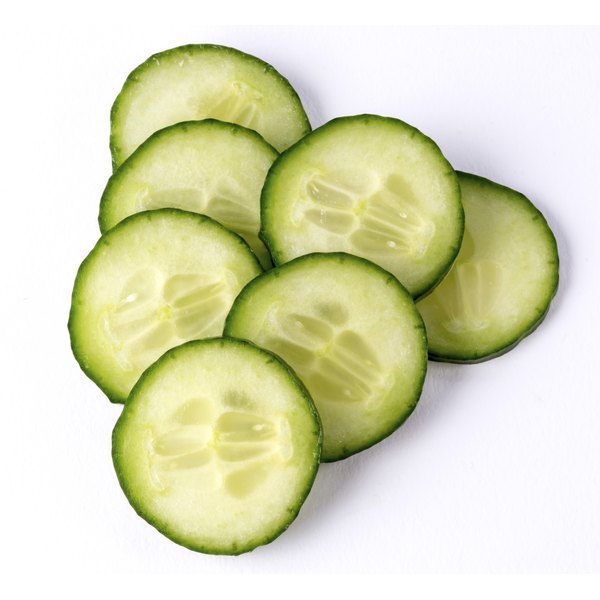 Related to watermelon, squash and zucchini, cucumbers are a vine plant that have been grown throughout history for their long, green and fleshy seed pods,which have a crisp texture and a light, fresh vegetable flavor. As part of a salad, pickled or eaten plain, they are also nutritious.
Vitamin C
Ascorbic acid, also called vitamin C, is available from cucumbers. Vitamin C is necessary for the formation of strong ligaments, tendons and other connective tissues and helps to build strong cell walls during growth and healing. According to Colorado State University, vitamin C also serves as an anti-oxidant, which helps to eliminate harmful chemicals from the body. A single medium cucumber, without the peel, has about 6.4 mg of vitamin C, which equals around 8 percent of the amount the body requires each day.
Vitamin K
The USDA Nutrient Database indicates that a medium, peeled cucumber holds around 14.5 mcg of vitamin K or around 13 percent of what the average adult needs daily. The University of Maryland Medical Center states that body requires vitamin K to facilitate the clotting of blood.
Folate
There is around 28 mcg of folate or 7 percent of the daily required intake within each medium cucumber. Together, vitamin B12 and folate help the body build red blood cells. Folate also supports the synthesis of DNA and can help to prevent birth defects, including spina bifida, states the McKinley Health Center at the University of Illinois.
Other Vitamins
Cucumber also contains several other vitamins, although in smaller amounts. These include approximately 6 percent of both vitamin A at 145 IU, riboflavin at 0.05 mg and thiamin at 0.06 mg, and around 5 percent of pantothenic acid at 0.5 mg and vitamin B6 at 0.1 mg in each medium cucumber.