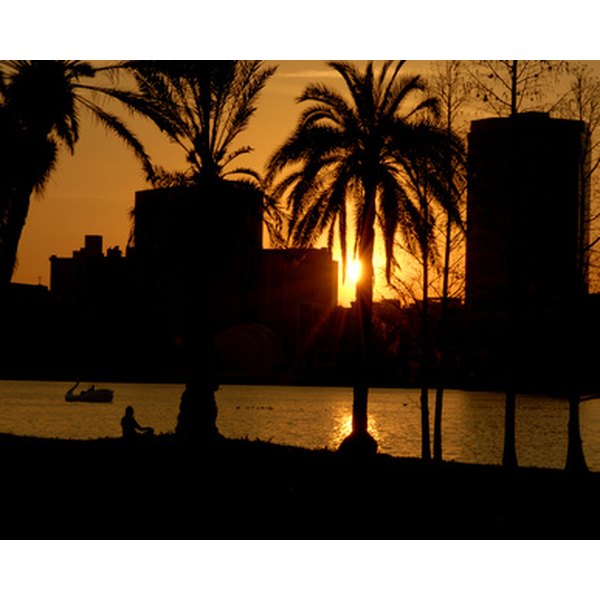 For adult travelers visiting Orlando, Fla., there's no reason to think that your brief sojourn will necessarily interfere with efforts at keeping fit. There are any number of ways to maintain an exercise regimen while you are away from home. In addition to the calories you could burn off just by walking around iconic Disney World and nearby SeaWorld, check out these other venues that can keep you fit and trim as you otherwise kick back and enjoy yourself.
Parks
Paved roads abound in Blanchard Park; in fact, there are more than five miles of them. Locals and visitors can enjoy their time here by jogging, skateboarding, in-line skating and biking. Knowing that you might not have your bike with you, stop by the rental store where you can ante up and pedal out to your heart's content. Basketball and tennis courts are also on the grounds if those are more to your liking. For those preferring water activities, fishing canoeing and kayaking is allowed in the park's waterway.
Museums
Put on your walking or running shoes and head to the Charles Hosmer Morse Museum of American Art. Here you'll find some fabulous Tiffany stained glass windows made by Louis Comfort Tiffany himself as well as windows designed by the world-renowned architect Frank Lloyd Wright. Hop in your car, take an eight-mile trip to Rollins College and find the Cornell Fine Arts Museum. Here you'll find more than 5,000 furnishings, artifacts and paintings encompassing antiquity through contemporary.
Boat Ride
Want to spend some time on the water and take in the fresh air? Then you'll want to take a seven-mile trip to Winter Park to the Scenic Boat Tour. The pontoon boats get you up close and personal to fish, cypress trees and beautiful flowers. But no hands in the water, please. Ever-watching alligators prefer not to be distracted while they swim by. More information, including current rates, can be found on the boat company's web site.
Restaurants
Fast food may be the bill of fare for most vacationers, but you don't need to follow the crowd. Check out Crispers on Kirkman Road. This is a soup-and-salad chain that features healthy fare that includes gourmet sandwiches and wraps. Tasty soups are also served up daily as well as generous salads with low-fat and fat-free dressings.
Space Center
See the near-claustrophobic, corrugated steel Mercury capsules that look absurdly primitive by today's standards. Stand in awe at the massive, 300 plus foot-tall Saturn rockets that propelled the Apollo astronauts to the moon and back. View the space suits worn by Allan Shepard and John Glenn. The Kennedy Space Center Visitor Complex is testimony to mankind's constant exploration of the unknown.