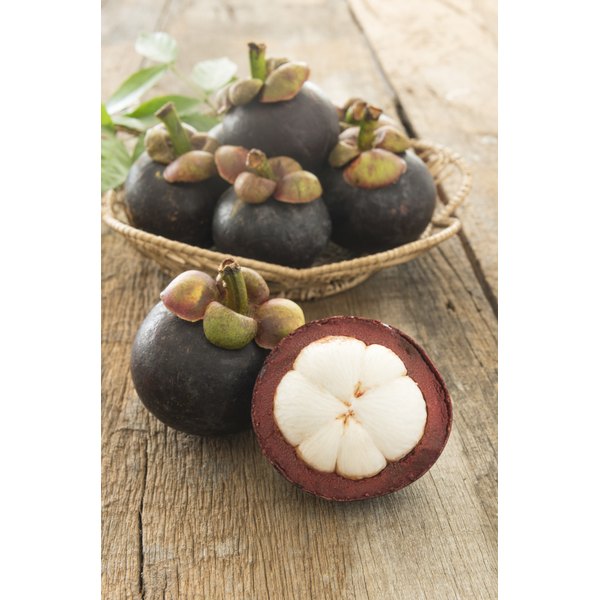 Mangosteen is one of the super fruits to make its entrance into the world marketplace. This fruit grows in Southeast Asia. Declared the Queen of Fruits, mangosteen was Queen Elizabeth's favorite fruit. The entire fruit is edible and its nutrients distribute between the pulp, the rind and the seeds. The appeal of this fruit is the presence of high levels of xanthones reported as being some of the most active antioxidants found in nature.
Vitamin C
The mangosteen is considered by many cultures throughout Southeast Asia as one of the foods of the Gods because of its array of health benefits. Vitamin C has long been held as one of the vitamins that yields benefits far beyond simply eliminating scurvy. Nobel laureate Linus Pauling credited vitamin C as a cure for the common cold, cancer and many of the other ailments of the body. Mangosteen contains only a fraction of the recommended daily allowance for vitamin C but helps contribute a portion of the vitamin C in your diet.
Vitamin B complex
Mangosteen possesses many of the various components of vitamin B complex. Nine separate molecules account for the vitamin B complex. Mangosteen contributes six of these molecules to your diet. The only three molecules of the complex that are missing in mangosteen are B6 (pyridoxine), B7 (biotin) and B12 (cyanocobalamin). Mangosteen doesn't contribute the total RDA of vitamin B complex but its does contribute a significant portion.
Vitamin E
While vitamin E is a fat-soluble vitamin, the mangosteen contributes this essential vitamin to the RDA for your body. Vitamin E is usually obtained from the oils of nuts, meats and grains, however the mangosteen fruit is able to provide this vitamin in a distinctly water-based environment.