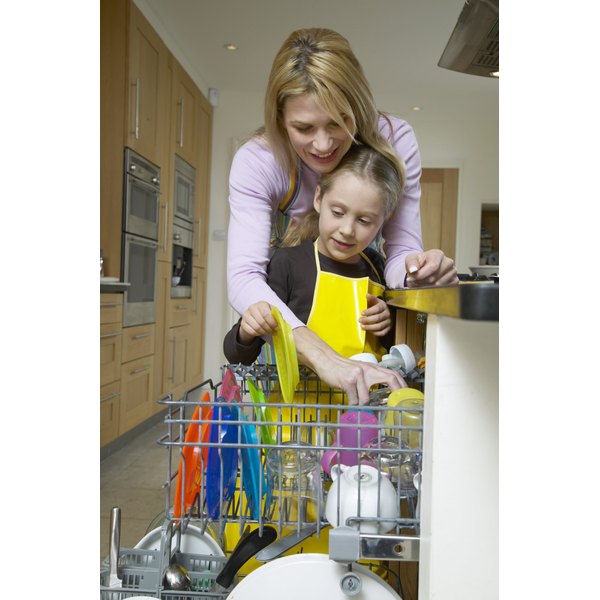 Oxford Dictionaries define mothering as "to bring up a child with care and affection," while a housewife's main occupation is described as "caring for her family, managing household affairs and doing housework." The marks of a woman who has done these jobs well are happy, healthy children and a home characterized by a sense of order and stability. Because your role is different than women working outside the home, your path to success and satisfaction requires distinct considerations.
Taking Time for You
Amid the business of baseball practice, grocery shopping and your many other everyday tasks, your personal needs and desires are often overlooked, leading to burnout and exhaustion. Lisa Firestone, a clinical psychologist, writes in "Psychology Today," that the one thing a parent can do to be a better parent is to focus on developing herself. Volunteer for a local charity, take a creative writing class, or learn how to salsa. Find what brings you enjoyment outside the family and home, so that you will have the energy to invest wholeheartedly in your job.
Prioritizing What Matters
The endless to-do list that your job demands can often leave you focused on the details, rather than the emotional needs of your family. Take time to create rituals and routine will help enrich the well-being of your husband and children. The American Psychological Association says in the article, "Parents and Caregivers are Essential to Children's Healthy Development," establishing a family mealtime can help to improve communication and reduce symptoms of anxiety in children. Setting the list aside for a few minutes everyday to spend quality time with your family will help to create a deeper bond.
Developing Inspiration
Management guru and Harvard business professor Clayton Christensen, says in a CNN Money article, "How to Measure Career Success," that you will be good in any job where you are motivated. Motivation, according to to Christensen, means that you have a drive within you to keep going to be successful. As a mother and a family manager, being able to adopt personal motivators such as, "I have the opportunity to be a part of great things" or "I'm an important part of this family," will help you to be effective at your job within the home.
Appreciating You
It is easy to fall into the comparison trap when caring for your children and household. Thinking that your kids have to be smarter or your home cleaner than the woman down the street can diminish your satisfaction and commitment, according to Thomas J. DeLong, a Harvard Business School professor.. He says that success must be based on internal rather than external criteria. Acknowledge and utilize the gifts and abilities that are yours and yours alone.