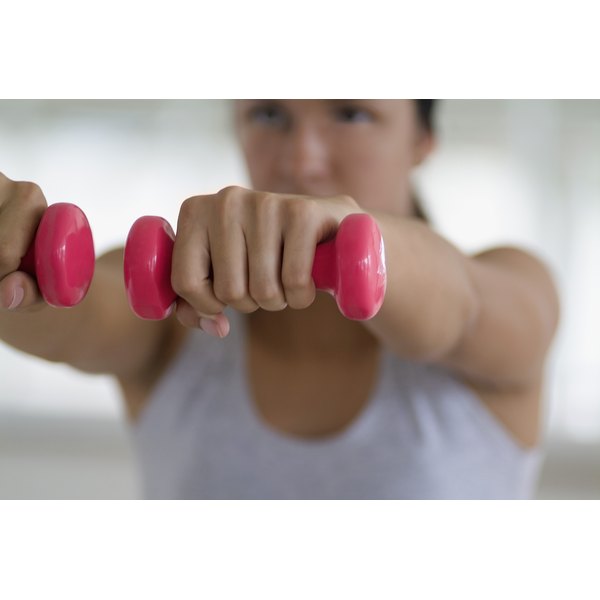 You've revamped your eating habits and are enjoying more vegetables, fruits, whole grains and lean protein. Congratulations -- you are 75 percent of the way toward achieving long-term weight management. However, the evidence is clear that daily physical activity is essential to keeping your weight under control for a lifetime.
Evidence
The standard exercise recommendation from health professionals is that adults should accumulate 30 minutes of physical activity five days per week. For long-term weight control, evidence suggests that you might need double that amount. (See Reference 1) According to the American College of Sports Medicine, you should aim for 250 to 300 minutes of moderately intensive physical activity weekly (See Reference 2). By "moderate intensity" exercise, professionals mean activity that is challenging, not window-shopping or strolling casually with your dog.
Style Tips
Your goal should be performing 60 minutes of activity on most days of the week, aiming to burn 2,000 additional calories total. But that doesn't mean you have to plod along on a treadmill in the gym, morning and evening. You can do many types of exercise outdoors, such as hiking, jogging and cycling. Certain sports, such as racquetball and soccer, are fun ways to get your heart pounding. You might enjoy the camaraderie of walking or running events; even if you aren't competing for a medal, you can work with a team of like-minded individuals to raise funds for worthy causes while you sweat. Choose activities that you enjoy and watch the time fly.
Making the Time
Are you an early bird? A night owl? Plan your activity around your body's rhythms to get the most bang for your fitness buck. Examine your daily schedule, looking for opportunities. The latest census revealed that Americans watch two to three hours of television daily (See Reference 3). Turn off your electronics and go to sleep an hour earlier. Wake up an hour before you usually do and use that time to get in an early workout before the day gets hectic. Choose a different type of physical activity for later in the afternoon. Often an after-work sweat fest helps you to unwind and face the evening refreshed.
All Movement Counts
Maybe 30 minutes in the morning and 30 minutes in the evening doesn't work for you. Again, look to your weekly schedule. Can you fit a 15-minute power walk into your lunch hour, followed by 45 minutes at the gym? Or maybe you have heavy-duty chores to get through at home; manual yard work and scrubbing floors count as moderate-intensity physical activity. Hit the gym before work and then take your family out for a game of tag or flag football in the park. Find creative ways to get moving twice a day, every day, and before long you'll have established a healthy habit for life.