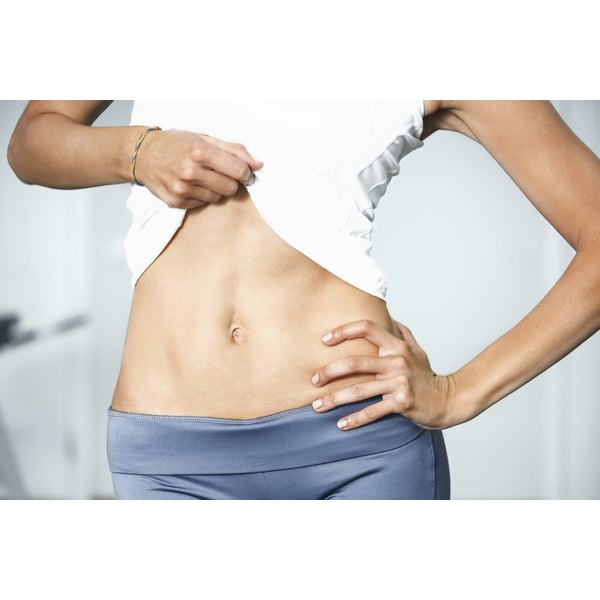 The Abs Diet "is guaranteed to give you a flat stomach and great physique in just six weeks," according to the diet's official website. The plan promises to melt away fat and build muscle in your trouble areas. As an alternative to traditional diets, this plan recommends eating six times per day. The diet not only allows snacking between meals, it encourages snacking. The Abs Diet recommends a variety of healthy and delicious snack ideas.
Meal Plans
Rather than encouraging people to eat less throughout the day, the Abs Diet recommends eating more often to keep the body's energy levels balanced. Eating only three meals per day creates an overwhelming energy imbalance between meals, according to the Men's Health website. For this reason, the Abs Diet recommends eating six times a day. Although your exact schedule may change slightly, the recommended meal plan places five hours between breakfast, lunch and dinner. Two to three hours after each meal, you should consume a small snack.
Fresh Produce
Two of the 12 Abs Diet Powerfoods include fresh produce items. The diet plan categorizes "spinach and other green vegetables" and "raspberries and other berries" as the super foods, but those categories include most fresh fruits and vegetables. Vegetable snack ideas include carrots, cauliflower, broccoli, bell peppers, cucumbers and spinach salads. If you need a dip for your vegetables, use low-fat cottage cheese or Greek yogurt flavored with your favorite spices. Fruit snack ideas include raspberries, blueberries, blackberries, strawberries, cantaloupe, oranges, pears and grapes.
High Protein Foods
Of the 12 power foods recommended by the Abs Diet, eight of them are extremely high protein foods. If you are in the mood for a salty snack, choose almonds, black beans, legumes or peanut butter. For a simple peanut butter snack, spread the protein-packed food on whole wheat crackers, fresh vegetables or a slice of whole grain bread. If you prefer a creamier snack, opt for low-fat dairy products, such as string cheese, yogurt or cottage cheese. For a more substantial snack, have an egg, a few slices of lean meat or a package of instant unsweetened oatmeal.
Smoothies
For a quick and refreshing snack, make yourself a smoothie using a few of the Ab Diet super foods. As explained on the Men's Health website, smoothies are not only easy to make and tasty to eat, but also promote weight loss if they regularly include yogurt. For a healthy smoothie snack, blend ice, low-fat milk, yogurt and fresh fruit. You might also add peanut butter, uncooked instant oatmeal or sugar-free juice.
Snacks to Avoid
Although the Abs Diet does allow you to eat one "cheat meal" per week, it suggests that you avoid unhealthy foods at every other meal and snack. Unhealthy foods generally include foods high in fat, fried foods and unnecessary sweets. Additionally, the Abs Diet strongly recommends monitoring your beverage intake. As explained by the Diet Channel website, "beverages are considered the kiss of death" on the Abs Diet. Beverages to avoid include high sugar juice, high calorie sports drinks, high-fat milk and high calorie beer.