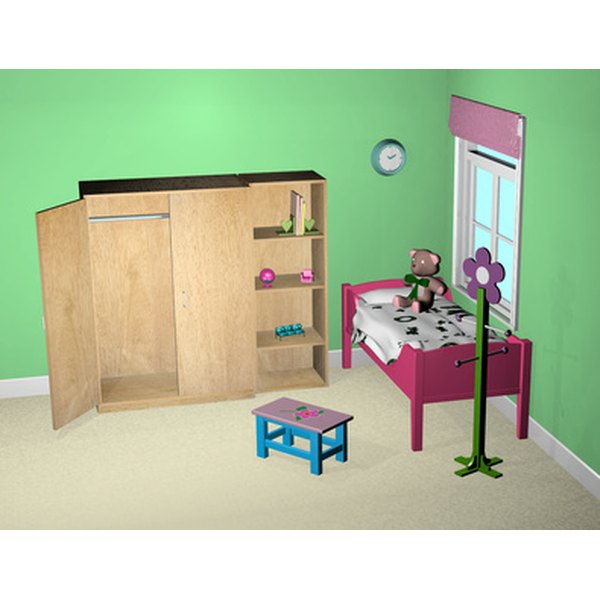 When it comes to decorating for children, there are numerous themes and designs from which to choose. While many themes tend to be gender-specific, there are also several design ideas that you can use to create a unisex room. Whether you want to keep your child's room gender-neutral, or you're designing a room for multiple children to share, it is possible to find unisex decorating ideas that are sure to appeal to any child.
Furnish the Space
If you're creating a unisex room that's meant to be shared by multiple children, the type of furniture you choose will largely be determined by the amount of space you have. If you have younger children, opt for smaller twin beds or even a trundle bed, if space is limited. If you have older children, choose bunk beds and arrange them at a perpendicular angle. Choose matching accent furniture that both children will enjoy in natural wood or gender-neutral colors, such as white or light green.
Theme Wars
Choosing a theme sometimes depends on the number of children who will be sharing the room and their personal tastes. If you're designing a unisex nursery, for example, neutral themes, such as nursery rhymes, animals or a storybook character may be appropriate. If you have two children sharing a room, choose a neutral theme or split the room design into two separate themes. If you have the space, paint each half of the room a different color based on each child's preference and let them create their own theme.
Personalize with Fabric
The bedding you choose should tie into the theme or color, but it should also be reflective of each child's individual tastes. You can opt for identical bedding if your youngsters share similar tastes or let each child help select a color or pattern for the bedding that shows off their unique taste and personality. If you choose identical bedding, accent pillows or throw blankets can be used to help personalize each child's space.
Storage Solutions
If your kids are sharing a room, creating storage space for each of them can be a challenge. Wire shelving or dividers can help to organize a shared closet. You can also install bookcases or prefabricated kitchen cabinetry to offer additional shelving and storage space. Wicker or mesh baskets or plastic buckets in coordinating colors can be used to store toys, clothes and other miscellaneous items. Install a book rack and wall lamp next to bunk beds to create a personalized reading space.
Customize Easily
If you're creating a room with a single theme, using colors, furniture and bedding that coordinate can create a consistent look, but it's also important to let your child's personality shine through. If you have multiple kids sharing a room, display framed family pictures or special toys and mementos to create a more personal feel. Even framing some of your child's own artwork for the space can make the area feel customized to each child. Consider stenciling your child's name on the walls or furniture, or use hanging letters to spell out their names and identify their personal space.