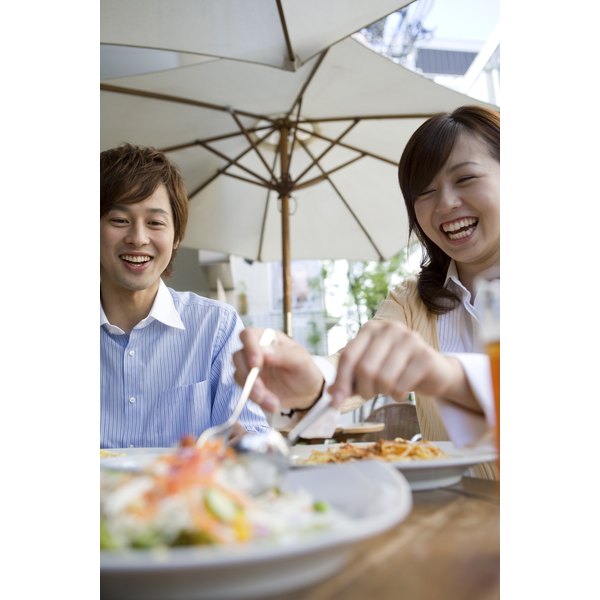 No single meal plan will satisfy you every day. When establishing meal plans, keep in mind your personal preferences and opt for variety. Determine an appropriate calorie amount per meal, divide servings of each food group throughout the day, and then play within those parameters. Also, don't be afraid to be a little adventurous; new foods can add nutrients, and can keep old plans fresh.
Breakfast
Grains and fruit will quickly satisfy that early-morning hunger with their natural sugars, but protein and fats will keep your energy up longer because they are digested more slowly according to "Nutrition through the Life Cycle." Vegetables also provide high amounts of fiber, which stretches satiety. Try a cup of oatmeal with 1 tablespoon of peanut butter, a sliced banana, and one tablespoon of honey or any other sweetener you like on top for a tasty breakfast around 400 calories, says the U.S. Department of Agriculture, or USDA. Or, for something a little larger, try a two egg-white, one whole-egg omelet with a half to a whole cup of any veggies you enjoy--chopped spinach, broccoli, peppers or onions. Add a little bit of grated cheese and two slices of whole-wheat toast, and you're still right around 500 calories.
Lunch
Your mid-day meal can be a little lighter than breakfast or dinner. If you did not have any vegetables in the morning, this is a good time to pack in those nutrient-dense foods with a hearty salad. Stack a bed of greens, such as spinach, a spring mix, or crispy romaine. Remember, the darker the green, the more nutritious it will be, the USDA advises. Grab hearty mix-ins: raw chopped veggies, dried fruit, nuts, chicken or turkey, beans, and cold, cooked grains like cous cous will help to keep you full longer and balance the meal. Just be careful not to overwhelm your salad with creamy dressings, croutons, or too much cheese, which can rapidly add calories and fat. This example will give you 300 to 400 calories.
Dinner
Wrap up the day with something hearty and satisfying. Include a few servings of grain and protein, and finish out your vegetable necessities. A cup of whole-grain pasta with a couple small meatballs, a tablespoon of grated parmesan and roasted vegetables offers a rich and well-rounded meal close to 500 calories. For a lighter option, try two or three fish or beef tacos--or vegetarian with just beans--with vegetables such as tomato, lettuce and peppers wrapped in 6-inch corn tortillas. Each taco comes out to only about 150 to 200 calories, depending on the ingredients, the USDA calculates.
Snacks
You can round out any unfulfilled serving recommendations for food groups with 100 to 200 calories in snacks. Try a handful of chopped raw carrots if you're low on vegetables, an apple or orange for an extra serving of fruit, or string cheese for a little protein and calcium punch. Grab a snack between meals or after dinner to keep your metabolism running, according to "Nutrition and Diet Therapy."
Grocery List
When heading to the grocery store, make sure to shop the periphery of the store first, where you will usually find fresh produce, frozen meats and vegetables, and bulk grains and bread products. For protein, stock up on eggs, low or no salt canned beans, peanut butter, canned or frozen fish, boneless and skinless poultry, and lean ground beef or pork loin. When choosing dairy look for lower fat options whenever possible. Whole-grain bread products are more nutritious options than those made with refined grains, but for even more fiber and minerals per weight, try buying whole grains in bulk and cooking them at home, says the Cleveland Clinic. Your options include brown rice, quinoa, cous cous, and oats, among others, and all provide a filling and earthy component to any meal. Fresh or frozen produce provides the most nutrients without the sugar or salt often added to their canned counterparts.
Always keep salt and pepper on hand, as well as aromatics such as garlic and onions. Olive oil provides essential fatty acids, and is an all-purpose cooking oil for meats, vegetables, and grains. Change flavor profiles of dishes with different herbs and spices such as warm, smoky cumin, sweet and spicy cinnamon, hot cayenne pepper, or cool basil and thyme. Feel free to mix and match, and become an artist in your kitchen.