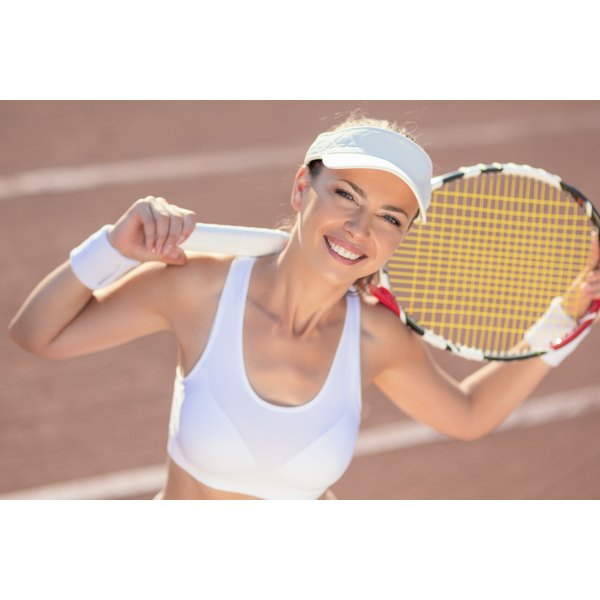 What to Look For
Although many young tennis players begin their first instruction using a very lightweight racket, most players find that, as they develop in technique, they need to move up to heavier, shorter and more balanced racket frames. Beginner rackets are designed to be head heavy, around 110 to 115 square inches in head size, and from 8 to 9 ounces in weight. However, as you develop as a player, it would be beneficial to progress to frames that are more evenly balanced, around 100 square inches in head size, and around 10 to 10.5 ounces in weight.
Common Pitfalls
One common pitfall that many intermediate tennis players commonly make is buying a racket that doesn't suit every facet of their game. Although many players like to use a heavier racket to hit from the baseline for added control and accuracy, others like to use lighter-weight rackets for more speed and agility at the net. However, if you like to play both at the baseline and at the net, you need to find a racket whose weight suits both game types comfortably.
Where to Buy
You can find intermediate racket frames at most sporting goods stores. Many of these stores sell older model frames for largely discounted prices and generally offer very good return policies, provided that the frame doesn't have any significant damage done to it. However, if you are interested in higher quality, top-of-the-line intermediate racket frames, you should begin looking at tennis pro shops like Golfsmith, or online at warehouses like Tennis-Warehouse.com
Cost
Most rackets for intermediate players sold at sporting goods stores range from $29.99 to over $200; they generally come pre-strung. If you're an intermediate player still testing out frames, this option is typically your best bet because you will be able to purchase a high quality frame for a very reasonable price. However, if you are already sure of the racket type that you want and have a little more money to spend, tennis pro shops sell top-of-the-line rackets for anywhere from $150 to $300; these typically are sold without strings. Although it's more money up front, if you are sure that you are comfortable with the racket you've chosen, it will be a good investment in the long run.
Insider Tips
If you are still unsure of the type of racket that you want, you might consider testing a few different frames. Most tennis pro shops rent out rackets for $10 to $15 per frame; the rackets can be taken out of the store and used for the whole day. Some online outlets will also let you test out multiple frames for as long as a week. Once you've hit around with a few different frames and have found one that you like, you can return the racket and shop around for the racket either in stores or online.