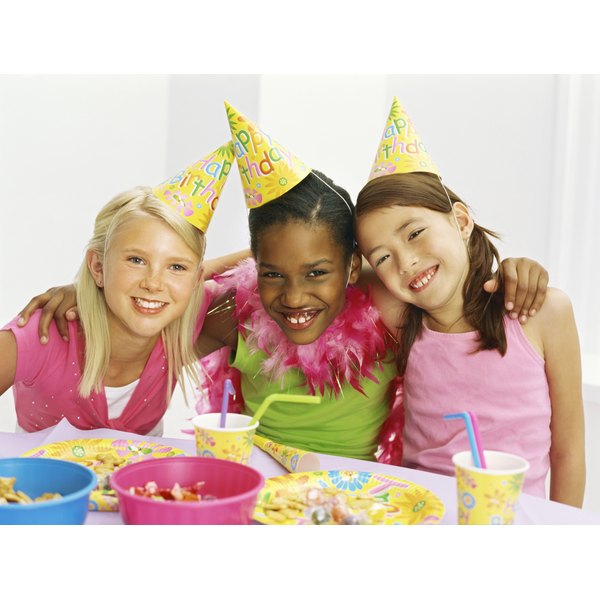 Birthday parties can be a cavalcade of unhealthy eating. Kids are picky and they tend to be attracted to high-fat, high-calorie foods like hot dogs, chips, and soda. With a little effort, imagination and planning, however, you can provide the calvary with delicious, nutritious snacks, to keep them fueled and happy. Look for whole foods like fruits and vegetables, whole grains and things high in fiber, which will fill them up. These ideas are for kids age 5 or older.
Cute Kabobs
Kids love things on a stick. Gather an array of kid-friendly fruits like grapes, strawberries and oranges and layer them on toothpicks. Fruits pack lots of essential vitamins and minerals like vitamin A and C. Throw in some cheddar cheese cubes for extra calcium. Make sure kids are sitting while they're eating, so no one gets hurt!
Get Playful
Anything in a fun shape will be a hit with kids. Cut peanut butter and jelly, or peanut butter banana sandwiches with cookie cutters to make fun shapes. Draw faces on bananas with squeezable chocolate frosting, giving just a little kick to an otherwise healthy snack. Lay out cut-up vegetables or fruits in the shape of cartoon characters, animals or faces. It's not always so much about what you're serving as how you're serving it.
Delicious Dips
Sometimes you can lay out all the fruits and vegetables in the world, but the kids aren't going to touch them, unless they're covered in something. Make your own healthy dips. Look for recipes that use plain, non-fat yogurt, or reduced fat sour cream or mayonnaise. Or use dips that sneak fruits and vegetables into the base. Avoid high-fat, high-calorie, high-sugar dips like caramel or chocolate. Peanut butter is high in protein, but also high in fat, so if you're going to offer it, make sure you can control the portions.
Tiny-Size
Another thing you can do is make little parfaits. Layer fruit and whipped cream in a shot glass or sauce bowl. You can also place dip at the bottom of the glass and then place vegetables on top, sticking straight into the dip. This is a great way to control how much dip the kids get, since dip can be high in fat and calories. Yogurt and granola work too, and that combination is full of calcium.
Easy-Peasy Almost No-Work Snacks
You can also use ready-to-go snacks like part-skim mozzarella cheese sticks, which are high in both protein and calcium, good for growing kids. Nuts and trail mixes provide energy too, but should be eaten in small portions because they are calorie, fat and sodium dense. Air-popped popcorn makes a great whole-grain snack and according to the Whole Grains Council is only 31 calories per cup. It is also high in fiber, which will keep your kids fuller, longer.