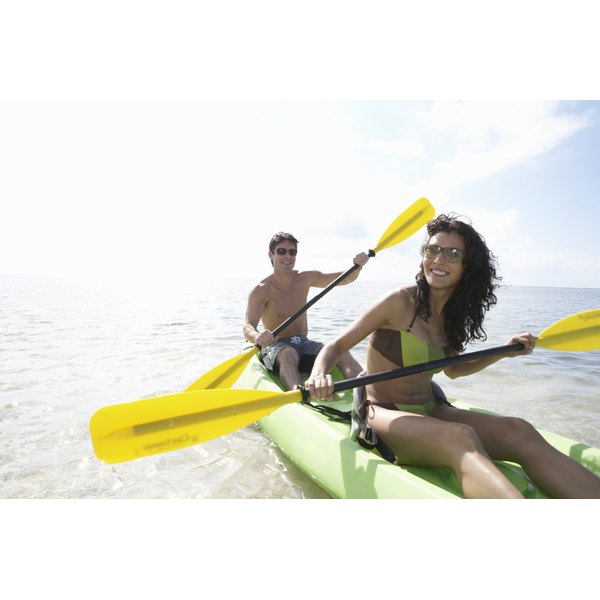 Gliding across the water in a recreational kayak is unsurpassed, helping you to become better connected with the watery, natural environment. A kayak allows you to discover special places on the water that are not easily accessed from the shore, allowing you a sense of solitude in a busy world. Whether you are out to catch a fish, take photographs from a unique perspective or get a workout, kayaking can provide a means to accomplish your goals.
Kayaking Considerations
The most important consideration when shopping for a kayak is deciding how and where you are going to use it. Recreational kayaks have different characteristics; the hull shape and length of whitewater kayaks differs from those designed for paddling on a smooth lake. How you are going to transport and store your new recreational kayak needs to be considered as you make your choices. The best kayak for you is the one that fits your purpose for it.
Inflatable Kayaks
Inflatable kayaks can be used when portability is an issue. They can fit into limited size spaces, making them easy to store and transport. There are a variety of sizes and designs to choose from, depending on your intended purpose. Generally, they are lightweight and easy to use. They can turn quickly and easily, although they may be slower to paddle than traditional kayaks. One main disadvantage is that you need to inflate them before you use them and deflate them when finished.
Whitewater Kayaks
For the more adventurous paddler who wants to take on the challenge of paddling a whitewater river, there are kayaks designed for that purpose. They are usually shorter and more maneuverable than other kayaks. They have rounded bottoms so that they can be maneuvered around obstacles more easily. The down-side is that they can be considered unstable by some and easily rolled over. Most whitewater paddlers practice correct rolling techniques until they are proficient at them.
Lake and Smooth-Water Kayaks
There are many general-purpose kayaks designed for smooth water operation. They are a compromise between heavy duty touring kayaks and highly maneuverable whitewater kayaks. They are available in two general types: sit in or sit-on-top. Kayaks designed to sit in will protect you better from the water and weather, keeping you and your gear drier. They also tend to get better performance that sit-on-top kayaks. The sit-on-top kayaks are popular with new kayakers because they are exceptionally stable and are not likely to capsize.
Tandem and Other Special-Purpose Kayaks
Kayaks are designed for all sorts of people and water activities. If two people want to paddle together in the same kayak, then tandem kayaks are available. There are also kayaks that can be powered by foot petals, which will turn a propeller, and free the arms for other activities such as fishing. You can even mount a sailing rig on your kayak. Some rigs are designed for downwind sailing only; others can be used to sail upwind too. Recreational kayaks now offer a vast array of options and sizes that can provide you with pleasurable experiences on the water for years to come.