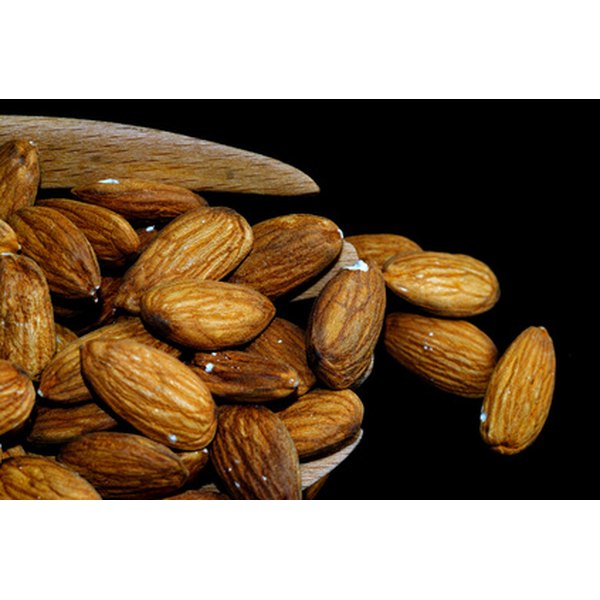 The "Abs Diet" book, written by fitness expert David Zinczenko, outlines basic eating and fitness principles that can help anyone lose weight and become more toned. Zinczenko advocates eating five to six mini-meals daily, exercising to build muscle and burn fat and including 12 specific foods in your diet to alter your body composition and reveal your six pack abdominals. While the diet is aimed at men, women can also benefit. Following Zinczenko's nutrition and exercise strategy should result in weight loss, if you discipline yourself to eat meals consistent with the diet's plan.
Protein Smoothie
While following the Abs Diet, begin your day with a whey protein smoothie. Whir together a serving of whey protein powder containing between 14 and 20g of protein, 1 cup of low fat milk and frozen berries. Zinczenko recommends whey in his diet and whey protein has been shown to help with weight and fat loss in a study in the journal "Nutrition and Metabolism" in March 2008. Participants in this study ingested a whey protein supplement high in leucine, bioactive peptides and milk calcium twice a day for 12 weeks and experienced greater weight and fat mass loss than participants drinking a carbohydrate placebo.
Eggs
Have two scrambled or hard boiled eggs as a mid-morning snack. The official Abs Diet site points out that eggs contain protein and vitamins A and B12 to help build lean muscle and burn fat. Have a slice of whole grain toast or a few whole grain crackers with the eggs.
Sandwiches
At lunch, brown bag a deli turkey sandwich on whole-grain bread with mustard and spinach. Lean meats, spinach and whole grains are all nutrient-rich foods that help you feel satisfied without adding a lot of saturated fat or sugars to your diet. Alternatively, make an old fashioned peanut butter sandwich with whole-grain bread. Zinczenko points out it can help boost testosterone--which is a hormone essential in muscle-growth--and is a good source of monounsaturated fat and vitamin E.
Oatmeal
Mid-afternoon, have a snack consisting of a package of plain, instant oatmeal made with ½ cup of low-fat milk and a sprinkle of almonds. Oatmeal contains fiber to help cut mid-afternoon munchies and its carbohydrates give you energy to power through the rest of your day. Almonds promote satisfaction and a potential rise in metabolism as suggested in a study in the "British Journal of Nutrition" from September 2007. Researchers from Purdue University found that people who ate an extra 344 calories daily in the form of almonds did not gain weight and curbed their overall food intake.
Pasta Meal
For dinner, enjoy 1 or 2 cups--depending on your calorie needs--of whole-grain pasta mixed with 1 tbsp. of olive oil and 3 to 5 oz. of grilled chicken breast. Have a side dish of steamed broccoli. The olive oil is an unsaturated fat, which can help reduce fat mass when used instead of saturated types as shown in a study published in the "British Journal of Nutrition" in 2003. Participants lost fat mass over the course of four weeks, without a change in caloric intake, when substituting their regular saturated fat intake with monounsaturated varieties. Whole grains, green vegetables and chicken breast are other foods important to the Abs Diet prescription.