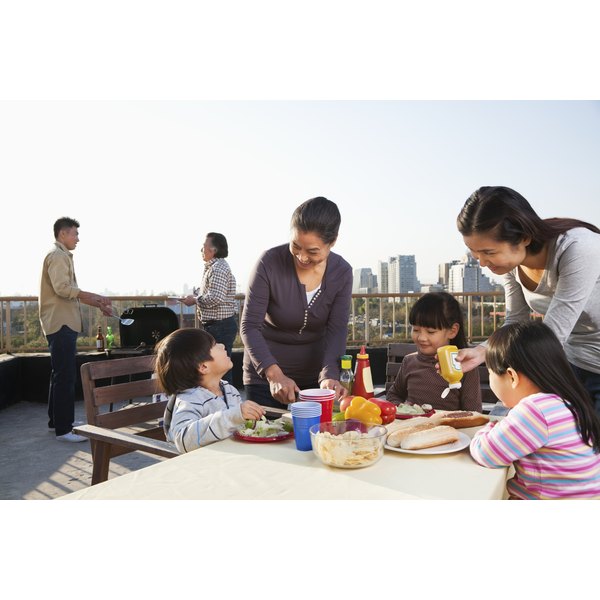 "Low-income family" is a term tied to the measure of poverty in the United States. In 2008, according to the U.S. Census Bureau, 13.2 percent of the nation's population had incomes below the Federal Poverty Level, or FPL. Those with incomes below the FPL are very low-income families. Low-income families are primarily working families with income that is less than twice the FPL.
Low-Income Families
According to the Urban Institute, approximately a quarter of all American children live in low-income families. Most have at least one family member working full time, usually for low wages. The average income of the high earner in low-income families was $9 per hour in 2005. Low-income families tend to have few job-related benefits like health care or sick leave. As a result, many of these people report postponing health-care visits, and they are more likely than those in middle class families to report being in poor or fair health.
Basis of Poverty Measures
In 1963, the U.S. Department of Agriculture developed a measure of poverty in the U.S. This was based in large part on the "economy food plan," the least expensive of four developed by the Department of Agriculture. Although the economy food plan was deemed nutritionally adequate, it was one "designed for temporary or emergency use when funds are low" and not recommended for long-term use. In addition to a measure of food adequacy, the federal poverty measure took into account the percent of an average family's budget spent on food, whether the family was urban or rural, how many and the ages of children in the home, and other factors.
The poverty measure has been modified since it was first introduced, and several commissions have issued recommendations for changes. So far, the modifications have been minor.
Guidelines vs. Thresholds
Articles about low-income and very low-income families often use the term FPL to measure the federal poverty standard, although sticklers note that there are really two poverty measures, each used for a different purpose--poverty thresholds and poverty guidelines.
Poverty thresholds are issued annually by the U.S. Census Bureau, and are used for statistical analysis. For example, poverty thresholds would be used to assess the relationship between income and health insurance, education or obesity.
Poverty guidelines are issued annually by the U.S. Department of Health and Human Services as an administrative tool. The guidelines are a simplification of the poverty determination. They are used to determine financial eligibility for certain federal programs such as Medicaid or the Women's, Infants and Children's nutritional program, known as WIC.
Federal Poverty Guidelines
The Federal Poverty Guidelines are tied to eligibility for federal programs such as Medicaid. For 2009, the Federal Poverty Guidelines for the 48 contiguous states and the District of Columbia for a single person was an annual income of $10,830 or for a family of four, $22,050. These figures are somewhat higher for Alaska and Hawaii. For low-income families, defined as having incomes below twice the FPL, that translates to $44,100 annual income for a family of four.
Significance
The Children's Health Insurance Program, or CHIP, a joint state-federal program offering health insurance to children of low-income families, uses the Federal Poverty Guidelines for determining program eligibility. Although the CHIP eligibility levels vary somewhat by state, Michigan offers coverage to children in families with incomes less than 200 percent of FPL, pregnant women under 185 percent of FPL, and parents at 37 percent of FPL. For New Jersey, the figures are 350 percent, 200 percent, and 200 percent, respectively. Depending on income level, premiums are determined on a sliding scale.