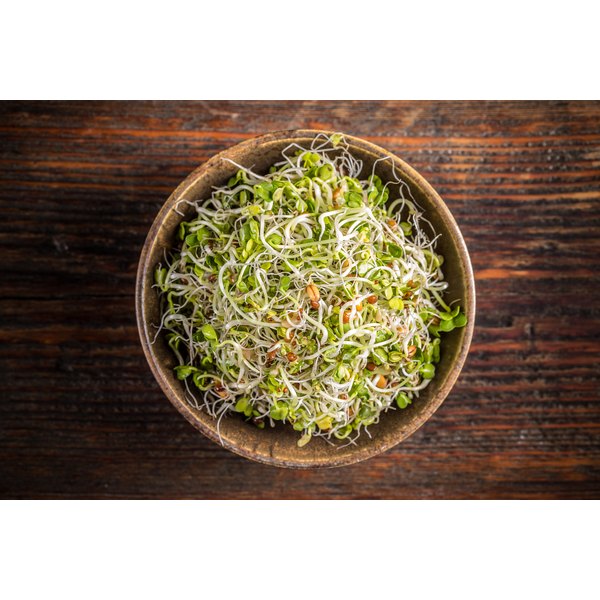 Trigonella foenum-graecum, known as fenugreek, has long been used as a spice and an herbal remedy across the Middle East. People harvest and roast dried seeds of the plant for food flavoring and medicinal purposes. Various components of fenugreek are responsible for its beneficial effects, including blood sugar regulation and cholesterol reduction.
Identification
The composition of fenugreek includes a large number of chemical components, as noted by the Memorial Sloan-Kettering Cancer Center. They include proteins and amino acids, flavonoids, saponins and steroidal saponins, coumarin, lipids, vitamins, minerals, galactomannan fiber and alkaloids, such as trigonelline. Extracts are available standardized to contain 50 percent saponins or 20 percent of the amino acid 4-hydroxyisoleucine.
Blood Sugar Benefits
Saponins in fenugreek may decrease glucose absorption in the digestive tract, and may be partially responsible for the herb's effect of reducing blood sugar. The trigonelline, nicotinic acid and coumarin components also have hypoglycemic activity. Trigonelline provides nicotinic acid, or niacin, during the seed roasting process. The amino acid 4-hydroxyisoleucine has been shown to increainsuse lin secretion in studies with animals, according to the MSKCC.
Diabetes and Fiber
Galactomannan fiber is another fenugreek component that may decrease glucose absorption from the gastrointestinal tract. A study published in the April–June 2005 issue of the South Asian Journal of Preventive Cardiology noted that including fiber in the diet improves glucose tolerance in diabetic patients. These foods decrease the rise in blood sugar after meals and also decrease the amount of medication required. Research noted in this study indicates that the gum type of fiber in fenugreek seed is most effective in lowering blood sugar.
Potential
Fenugreek also has cholesterol-lowering and lipid-lowering properties, as noted by the MSKCC. Galactomannan fiber and saponins may decrease absorption of both in the digestive tract, similar to its effects on glucose absorption. In addition, animal research shows that fenugreek has protective effects against alcohol-induced liver damage, according to the MSKCC, and laboratory studies show that fenugreek has anticancer, antimicrobial and anti-parasite properties.
Safety
The components of fenugreek responsible for blood sugar reduction can also cause hypoglycemia, or low blood sugar, in people taking medication to regulate their glucose levels. Diabetic individuals taking fenugreek should monitor their blood sugar to see if they need medication dosage adjustments, cautions the MSKCC. The coumarin component of fenugreek can lead to increased bleeding in people taking anticoagulant medications such as warfarin or heparin. Additionally, the type of fiber in fenugreek can interfere with absorption of oral medications.