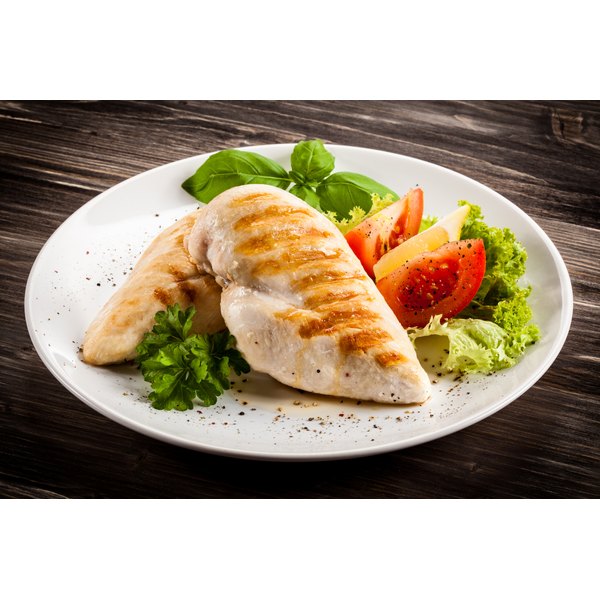 The dairy and egg free diet is a specific diet that is often prescribed to individuals with food allergies or food sensitivities. Because these foods are rich in nutrients such as protein and calcium, appropriate substitutions must be made to ensure that you continue to meet your daily nutritional requirements.
Who Should Follow the Diet
The dairy and egg free diet is typically followed by individuals who have been diagnosed with food allergies to both milk and egg-based products. Children are often diagnosed with these food allergies at an early age, however, they tend to grow out of them. Do not change your child's diet, though, unless he has been cleared to do so by a physician. The dairy and egg free diet may also be followed by individuals with lactose, or dairy, intolerance.
Food Substitutes on the Diet
Because dairy and egg products are high in protein, they need to replaced in the diet with other foods which are high-quality sources of protein. Meats, poultry, and fish are all excellent substitutes for the complete proteins found in dairy and eggs. Soy-based proteins found in soy milk and soy cheese can also be substituted. Because milk is high in calcium, other sources of calcium, such as calcium-fortified cereals,, green leafy vegetables and bone-in fish should be consumed in lieu of dairy products. Don't turn to calcium supplements without prior permission from your doctor.
Effects of Following the Diet
By following a dairy and egg free diet, individuals with sensitivities to these foods should be relieved of symptoms such as rashes, skin blotching, abdominal cramping, and gastrointestinal distress. These symptoms, which are associated with food allergies and food intolerances, should not occur when consuming foods that are compliant with this diet. If these symptoms persist while you are following the diet, it may be a sign of cross-contamination or of another food intolerance or allergy.
Sample Menu
A dairy and egg free breakfast could include a calcium-fortified cereal with soy milk, berries, and almond slivers, or it could include oatmeal made with water and brown sugar. Lunch could consist of a turkey sandwich made with lettuce, tomato, sprouts, and hummus, and side items, such as a side salad with oil-and-vinegar dressing, fruit and crackers. A well-balanced dinner might include baked fish with bones, brown rice, steamed vegetables, fruit salad and calcium-fortified almond milk.
Warning
Food allergies are a serious medical issue that can be fatal if not properly addressed. If you are diagnosed with a food allergy, such as a dairy or egg allergy, be sure that you meet one-on-one with a registered dietitian and obtain a thorough list of foods and ingredients that you need to avoid. Also, be sure that you read the ingredients list of all nutrition labels to help identify foods with potential allergens.