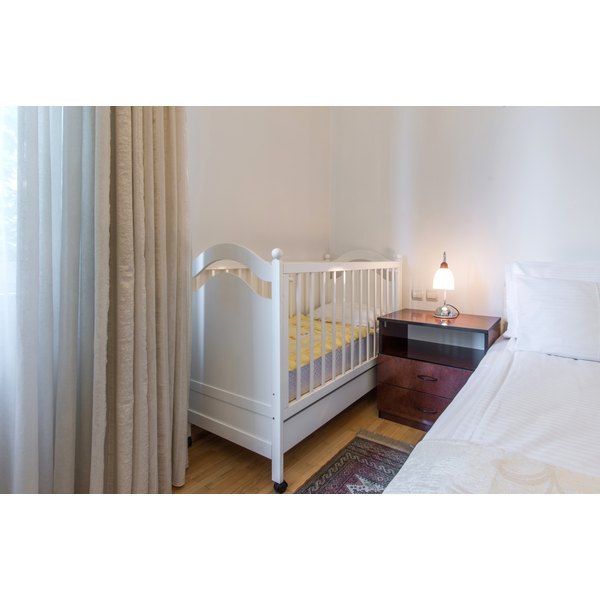 A nursery area in the master bedroom is useful if you do not have a separate nursery room in the home. The American Academy of Pediatrics recommends placing your newborn in a crib or bassinet in your bedroom; this arrangement may also be best for your baby's safety. Fitting a crib and all of your baby's items into an already full master bedroom proves challenging, however. A little creative rearrangement and space-saving storage allows you to share your room successfully with your baby.
Measure the master bedroom and closet. Measure all of the existing furniture in the room and any open areas.

Inspect your current furniture arrangement to look for spaces that might fit a crib. Determine if you need all of your existing furniture or can remove some items, such as a bookshelf, television or lounging chairs. Consider a walk-in closet as the crib location if you have plenty of room in it.

Measure the crib's dimensions to determine the location without moving the crib all over the room. Select a location that is easily accessible without interrupting the flow of the room. Rearrange your furniture as necessary to fit in the crib.

Purchase plastic storage totes with lids that fit underneath the crib and your bed. Look for storage with rollers on the bottom for easier retrieval.

Install shelves on the wall for storage of small baby necessities that doesn't take up valuable floor space. Place baskets on the shelves to hold smaller items.

Install a lower closet rod in your master closet to hold your baby's clothing. Add a small set of plastic drawers in the closet for smaller baby clothes that you don't want to hang, or designate one of your dresser drawers for baby clothes.

Set up a room divider by the crib if your baby is easily distracted by other action in the room. A curtain suspended from the ceiling is another divider option.

Tip

Cut a large piece of paper or cardboard the same dimensions as the crib. Use it as a template to experiment with different room arrangements. Place the paper on the floor in a potential location so you can see how much floor space the crib will take. If the sleeping arrangements are temporary, consider a bassinet or co-sleeper bed to take up less space.