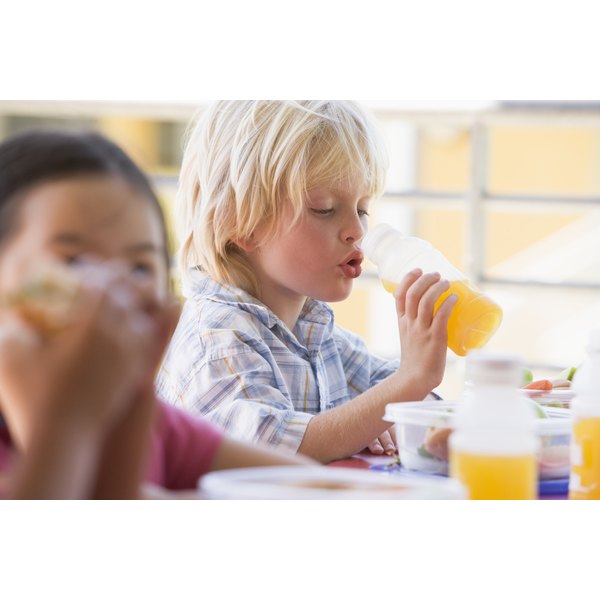 MonaVie is an antioxidant supplement product line. Each of the seven products contains a blend of fruit juices, a patented form of açai berry called acaVie and other ingredients. The juice, bottled in packaging that resembles alcohol containers, is sold in several countries in North and South America and Asia. Because MonaVie products are mostly natural fruit juice, they have few side effects.
Diarrhea
According to the company's website, MonaVie juices are made from a variety of fruits, including apple, pear, kiwi and prune. The product is fortified with additional fiber, as well as several vitamins. Some of the products contain glucosamine and plant sterols.
According to Dr. William Sears, fruit juices can cause diarrhea, especially in infants and children. A high fructose-to-glucose ratio causes more sugar to ferment in the large intestine, which results in diarrhea and gas. Fruit juices with a higher fructose-to-glucose ratio include apple, pear, prune, peach and cherry.
Gas
According to Jackson Siegelbaum Gastroenterology, too much fiber can contribute to the formation of painful abdominal bloating and gas. Because some of MonaVie's products contain additional fiber, some people may experience excess gas, especially if consuming more of the product than is recommended.
Additionally, according to Dr. Sears, fruit juices with a high fructose-to-glucose ratio like the apple, pear and prune juices found in MonaVie can cause too much sugar to enter the colon, resulting in the formation of gas, especially in children with immature digestive systems.
Allergic Reaction
According to CNNHealth.com, people who are allergic to pollen may also experience an allergic reaction to some fruit juices, especially apple, banana, pear and kiwi, which are found in many MonaVie products. Allergic reactions can range from itching and swelling of the mouth, lips tongue and throat to life-threatening anaphylactic shock. According to the Mayo Clinic, symptoms of anaphylaxis include a dangerous drop in blood pressure; narrowing of the airways, which leads to difficulty breathing; a rapid, weak pulse; skin rash; and nausea and vomiting.
Nervousness
One of MonaVie's products, MonaVie E, contains additional calories and caffeine. The product is marketed as an energy aid. According to Drugs.com, side effects of overconsumption of caffeine include dizziness, irritability, nausea and nervousness. Avoid other caffeinated beverages to keep these symptoms at bay.