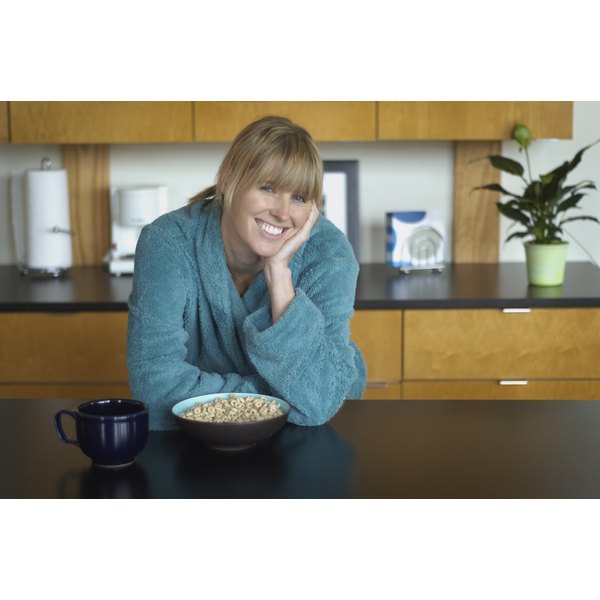 The Kashi Go Lean Diet is based on the philosophy that whole grains and other organic ingredients satisfy hunger and energize the body while delivering optimum nutrition. Kashi Breakfast Pilaf, the 7-grain cereal first produced by the company, has been joined by an assortment of products, including meal replacement shakes and energy bars, marketed under the Go Lean trademark to help you manage your weight.
The Plan
According to a review by Diet Choices, following the Kashi Go Lean Diet plan involves replacing breakfast and lunch each day with one of the Kashi whole-grain cereals, served with skim milk. However, if you prefer a little more variety for breakfast, you may substitute Go Lean waffles, hot cereal or snack bars for cold cereal.
Dinner should consist of 3 oz. of lean protein, accompanied by 1 to 2 servings of fresh vegetables. If hunger should strike between meals, 1 to 2 servings of fresh fruit may be consumed at any point during the day.
The Kashi Go Lean Diet accommodates people who prefer to limit their consumption of carbohydrates with Kashi Go Lean Plus products, which provide soy-based meal replacement shakes for breakfast and lunch instead of cereal grains.
Products
Kashi Go Lean cold cereals offer a variety of tastes and textures. The original contains 7 toasted whole grains and sesame "puffs." According to the manufacturer, this cereal provides twice the fiber and protein of most other cereals, as well as 40 percent of your daily fiber and 20 percent of your daily protein. Other cold cereal varieties available include "Crunch! Honey Almond Flax" and "Crisp! Toasted Berry Crumble." In addition, there are two types of instant hot cereals available—Creamy Truly Vanilla and Hearty Honey Cinnamon.
Other products in the Go Lean line include a variety of high-fiber snack bars ranging from chewy to crunchy, bars rolled in nuts and grains and strawberry and blueberry waffles.
Although the Kashi frozen entrees, pizza, pocket bread sandwiches and rice pilaf mixes are not part of the Go Lean line, they can be incorporated into the Go Lean diet plan and consumed for dinner, if desired.
Ingredients
The Kashi Go Lean diet products are made with natural, organic ingredients that are minimally processed and are designed to be high in protein and fiber. More importantly, the products are free of artificial flavors or preservatives, hydrogenated oils and high-fructose corn syrup.
Benefits
All of the Kashi Go Lean products are interchangeable, which may help you to prevent becoming bored with your food selections and stick to the plan. In an article written about the benefits of whole grain in the diet, the Kashi staff points out that people who eat a diet high in fiber tend to have more energy and maintain a healthy weight. In addition, high-fiber intake is associated with a reduced risk of heart disease and type II diabetes.
Considerations
The Kashi Go Lean diet is not designed for sudden or dramatic weight loss, but to help you safely lose excess weight. Following this diet may be too calorie-restrictive for certain people. See your doctor or nutritionist about a sensible weight loss plan that's right for you, especially if you have a chronic condition.