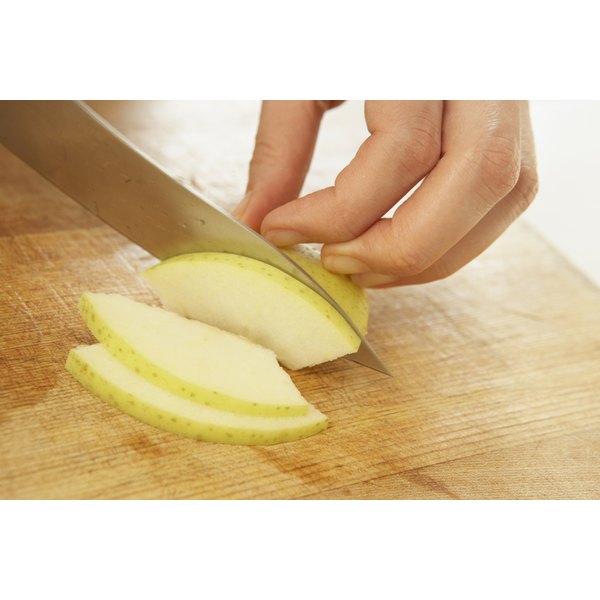 As your baby gets older, he will be curious to try new foods. Although feeding your baby the same old baby food in a jar may be the easy solution, your 1-year-old should be trying a variety of fresh fruits and vegetables, protein and whole grains. As your baby explores a new world of finger foods, ensure her safety by cutting everything into small, bite-sized pieces to prevent choking.
Meat, Fish and Eggs
Introducing your baby to meat and eggs will help your child get adequate protein throughout the day. Chopping meat, like baked chicken breast or turkey, into small pieces will help your 1-year-old easily chew and swallow her food. Encouraging your child to pick up and eat the food on her own will help her learn to feed herself entirely on her own.
Coated Snacks
If you're looking for a snack that covers more than one food group, coat snacks in crushed-up cereal or wheat germ. Cutting up fruit, like mangoes, apples or peaches into small, bite-sized pieces, then rolling them in crushed whole-wheat cereal will keep your baby full and satisfied, says Baby Zone in the article "Best Finger Foods for Toddlers." For a yummy breakfast treat, roll small pieces of bananas in graham cracker crumbs.
Veggies
Feeding your child colorful foods will pique his interest in trying new things. Load up your child's plate with veggies in different shapes, like small broccoli florets, thinly-sliced matchstick carrots and bell pepper strips. Arranging your child's food into a silly face may help your child be more inclined to eat the food on his plate, says pediatrician William Sears. If your child turns his nose up at sliced veggies, cut flat vegetable slices, like cucumber and carrot slices, into fun shapes with small cookie cutters.