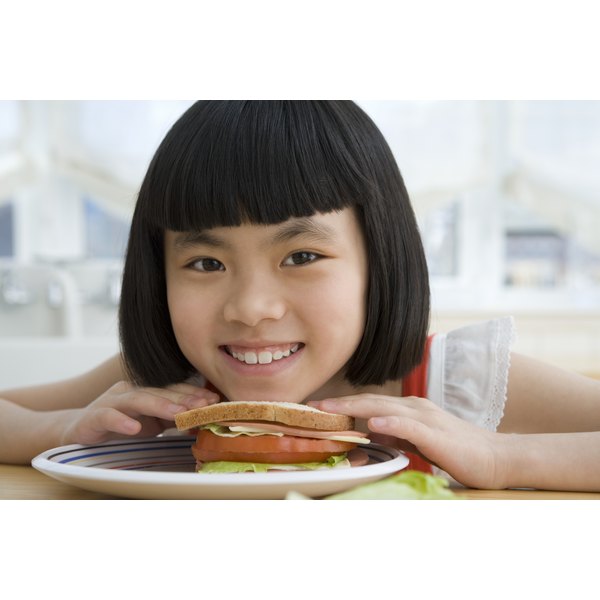 Many parents want to ensure that their children are getting the nutrients they need to be healthy. Protein is one essential nutrient for children's growth and development. High-protein snacks can help your children meet their protein requirements, which equal 19 grams per day for children 4 to 8 years old and 36 grams per day for children ages 9 to 13 years old. Snacks for children should be age-appropriate and nutrient-dense.
Roll Up a Sandwich
Roll-ups are pinwheel-shaped snack-sized sandwiches. Spread fat-free cream cheese or cottage cheese on a whole-grain wrap. Place low-fat, low-sodium slices of turkey breast or lean ham on the cheese, and add shredded lettuce. Roll up the tortilla, and slice it so that the pieces look like pinwheels. An ounce of turkey breast has 6 grams of protein, and each tablespoon serving of nonfat cream cheese has 3 grams of protein. Children might also enjoy making pizza roll-ups with tomato sauce, mozzarella cheese and diced ham.
Take It on the Trail
Trail mix lets children choose their ingredients and make their own customized mixtures. Offer ingredients such as nuts, with 4 to 6 grams of protein per ounce; peanuts, which have 7 grams of protein per ounce; and seeds, with 5 grams of protein per 2-tablespoon serving. Ready-to-eat breakfast cereal, popcorn and dried fruit also provide protein for trail mix. This makes a portable snack that your children can munch on throughout the day. Nuts and peanuts can be choking hazards for younger children, however. An alternative age-appropriate snack is peanut butter and raisins on whole-wheat bread.
Use Dips to Pump up the Protein
Children can take dips in their lunches or share them with friends during study sessions at home. Use fruit, vegetables or whole-grain crackers for dipping. Children can dip apple slices, celery sticks or baby carrots into peanut butter, which provides 7 grams of protein in a 2-tablespoon serving. Children can also dip whole-grain pita chips into hummus, or garbanzo bean dip, which has 5 grams of protein in 1/4 cup. Another option is to use nonfat cottage cheese, with 15 grams per 1/2 cup, as a dip for multigrain crackers.
Yogurt Choices
A 6-ounce container of fat-free yogurt provides 10 grams of protein, and the same size serving of Greek yogurt supplies 17 grams of protein. Soy yogurt has 6 grams of protein per cup. Dairy products and soy-based milk substitutes provide calcium, which is necessary for building bone mineral density. Children can take yogurt to school in insulated lunch bags. Limit sugar-sweetened yogurts, which are higher in calories and sugars than plain varieties. Children who prefer sweeter tastes can add blueberries or cinnamon and pears to their yogurt.
Age Considerations
Snacks for children should be appropriate for their ages and activities. Peanut butter can be a better choice than peanuts for younger children who are still at risk for choking. Older children might find trail mix more practical for stashing in a gym bag for an after-school snack before soccer practice. When possible, include children in preparing their snacks to encourage them to become interested in their own health and nutrition. Younger children can help serve themselves ready-made snacks, and older children can help prepare more sophisticated snacks, such as English muffin pizzas.