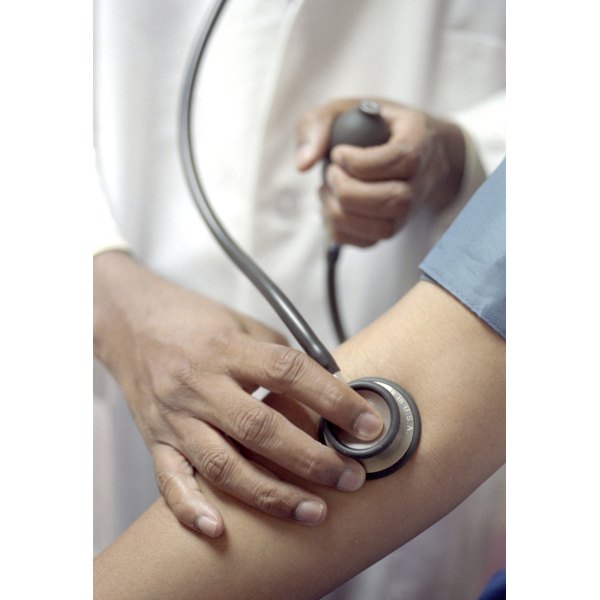 Benicar is a medication in a class of drugs known as angiotensin II receptor antagonists. According to Drugs.com, Benicar keeps blood vessels from narrowing, which lowers blood pressure and improves blood flow. It is used for the treatment of high blood pressure in adults and children. This medication may be prescribed in conjunction with other medications. Women who are pregnant, or planning to become pregnant should not take Benicar, as it may cause harmful effects to a developing fetus. There are some side effects associated with Benicar 20 mg.
Weakness and Dizziness
Patients who take Benicar 20 mg may experience weakness and dizziness. These side effects may be temporary and lessen over time as the body adjusts to daily treatment with Benicar. Drinking alcohol while taking Benicar may increase these effects and should be avoided. Patients taking Benicar with other medications to treat their blood pressure should avoid standing up quickly from a seated position, as it may cause dizziness, explains PDRHealth. In some cases, weakness and dizziness may be symptoms of low blood pressure. Patients should be closely monitored by their doctor for the first several months of treatment with Benicar. Users who experience low blood pressure while taking this medication should consult their physician prior to taking another dose of Benicar.
Stomach Discomfort
Benicar 20 mg tablets may cause some users to experience stomach discomfort. Symptoms can include stomach pain, nausea and diarrhea. Taking Benicar with food or at bedtime may help to lessen these effects. Avoiding spicy, fatty and fried foods while experiencing these effects may help lessen stomach discomfort. Users who develop diarrhea that persists or becomes severe may be at risk for dehydration and additional complications and should seek medical attention.
Skin Rash
Patients taking Benicar 20 mg may develop a mild skin rash. This rash may or may not itch. Keeping the skin clean and dry and avoiding the direct sunlight may help to lessen rash. With a doctor's consent, an over-the-counter anti-itch medicated cream may be helpful to treat the affected area.