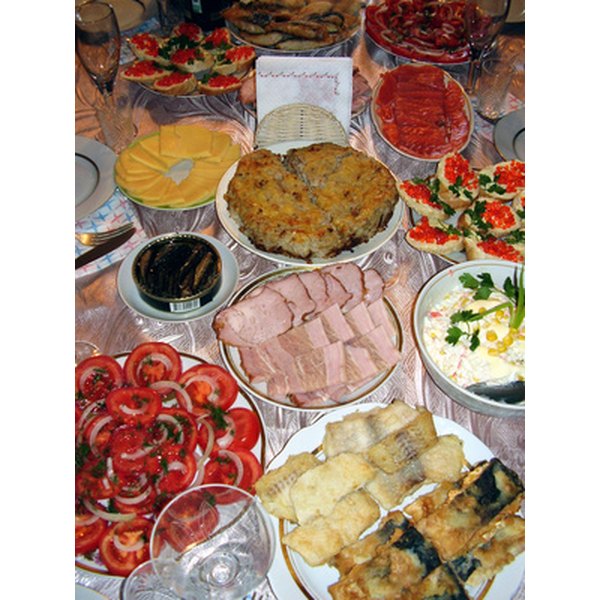 Keeping fit over the holidays may seem an impossible task. All of the delicious foods that go hand-in-hand with the holidays are hard to resist. You may have neither time nor inclination for your regular exercise during the busy season. Holiday shopping, party planning, getting ready for company and other errands combine to weaken resolve and send willpower the way of the North Pole. But a few strategies can help you navigate holiday fitness obstacles with no regrets on the other end.
Set the achievable goal of simply maintaining your current weight, and consider yourself a success if you make it to January without any extra pounds. Losing weight is notoriously hard during the holiday season. Holiday weight gain, while averaging only 1 pound overall, is as much as 5 pounds for those already overweight or obese, according to a 2000 study published in "Nutrition Reviews." But don't think you're off the hook if you only gain a pound. The study also found that the extra pound usually does not go away, and may account for more than half of that creeping annual adult weight gain.

Navigate holiday meals wisely. Have a high-protein snack ahead of time; for example, beef jerky has surprisingly few calories, but packs in the protein, which will help you feel full. Or, choose cottage cheese and fruit; either way, you will eat less at the dinner or buffet table.

Save the best for last. Keeping fit doesn't mean you have to deprive yourself of holiday goodies; rather, save them for last. Eat the salads, fruits and vegetables first, with low-fat dressings and dips; you will be less likely to binge later on the sweet and fattening fare that usually accompanies holiday meals.

Cut back on what you eat at the holiday meal itself to save calories. If you're going to have pumpkin pie after dinner, skip the mashed potatoes and gravy instead of the lunchtime sandwich. The holiday season is full of potlucks and parties, and skipping meals to save room for them may backfire on your fitness goals, according to Federal Occupational Health. You'll likely end up so hungry by the time the potluck rolls around, you will overeat, and any perceived benefit will disappear.

Reward yourself for exercise. Stay motivated to exercise by giving yourself incentive. The little things you do for yourself are often the first to go to accommodate the holiday rush. So, when you succeed in fitting your workout into your over-scheduled day, pamper yourself as congratulations. Take an extra-long shower. Watch your favorite show on the DVR or curl up in bed with a good book. In all of the holiday commotion, remember to take care of yourself, too.

Stay active. Some days, you just won't be able to fit exercise into your holiday schedule. Take the stairs instead of the elevator. Don't drive if you can walk. Step up the pace while you're shopping for gifts, and stroll around the block after dinner, or even before. Every little bit adds up to keep fit and keep the holiday pounds off.

Tip

Exercise early in the day, when you are more likely to be motivated. If you've already burned some calories, you will feel less guilty when you plop down on the couch with a sugar cookie after a long day of holiday hustle and bustle.