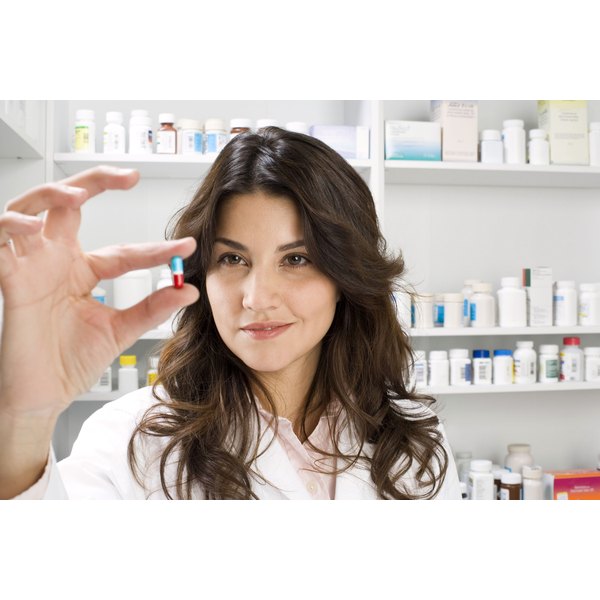 Estroven is meant to reduce physical as well as psychological symptoms that come along with perimenopuase, menopause and post-menopause. Estroven promotes hormonal balance by utilizing ingredients that are good sources of phytoestrogens, naturally occurring compounds in plants such as soybeans. Take the supplement once daily before bed. It's best to take it with food to avoid stomach upset. Avoid Estroven if you are pregnant or likely to become pregnant. Always consult with a doctor before taking a new dietary supplement.
Significance
Estroven can reduce vasomotor symptoms associated with menopause. These include hot flashes and night sweats. The phytoestrogens in Estroven, mainly daidzein and genistein from soy and black cohosh, are responsible for this effect. Phytoestrogens have a structure that's similar to estrogen produced by your body, which helps to support hormonal balance. Black cohosh is considered an effective alternative for women who do not use hormonal replacement therapy, but should not be taken for more than six months to alleviate hot flashes.
Benefits
Estrogen therapy has been shown to decrease many physical symptoms of menopause. Estroven has many benefits. This supplement may reduce your mood swings and improve your sex life. In menopause, some women experience vaginal dryness and thinning of vaginal walls. The cause is fluctuating estrogen levels, which can begin during your 30s. The phytoestrogens in this product can alleviate such symptoms.
Features
Estroven is formulated to help you get a good night's sleep, reduce your anxiety and reduce hormone-related irritability. The formulation features an herbal blend that includes kava. Kava is traditionally used to improve and induce sleep, to decrease nervousness or anxiety, and to alleviate stress.
Considerations
Estroven contains several vitamins and minerals such as vitamins E, B6, B12, folic acid and minerals like calcium. These vitamins are in safe supplemental ranges. While product information promotes the product as one that can improve bone health, the calcium content in Estroven is actually somewhat low.
Warning
Certain ingredients in Estroven can lead to undesired side effects. Black cohosh side effects can include headaches, diarrhea, nausea or vomiting, abdominal pain, headaches, joint pains, visual dimness, slow heart rate, tremors and weight gain. If you have a hormone-sensitive condition like endometriosis, fibroid tumors or breast ovarian or uterine cancer, you should avoid black cohosh. Kava side effects include morning drowsiness, an upset stomach or changes in vision. You need to avoid kava if you have kidney or liver disease, have problems with these organs or take medications that affect your liver. Kava can lead to liver injury, including hepatitis and cirrhosis.