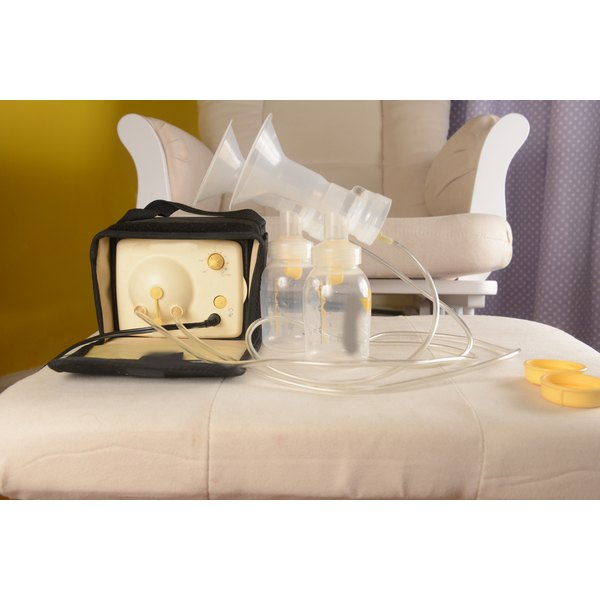 La Leche League International reports that breast engorgement following childbirth is relatively short-lived, and usually lasts only a day or two for most women. Breast engorgement occurs when the blood vessels in the breast become congested, making it difficult for you to nurse or express your milk. Engorgement generally causes breasts to feel tender and swollen, and may cause some discomfort for the new mother. Fortunately, methods exist that you can employ to reduce the pain and irritation.
Express milk with a breast pump or with your hands to relieve engorgement. For this purpose, an electric pump may work better than a manual pump.

Massage the breast in a circular motion. Start at the top of the breast and work down toward the nipple. Warm water may make this method more effective.

Take a warm shower before feeding your baby. The heat will increase blood flow to the breast and help your body release milk.

Wear a nursing bra that is supportive, but not restrictive. Place a cold compress inside the bra between feedings.

Crush cold, dry cabbage leaves and place them over the engorged breast. Leave on the breast for 20 to 30 minutes or until the cabbage wilts, according to the Children's Physician's Network.

Nurse your baby as much as possible. If your baby sleeps longer than a few hours at a stretch, wake your baby to nurse. Make sure the baby completely drains one breast before offering the second breast.

Apply manual pressure to breasts while your baby feeds. This should help soften the breast and increase the flow of milk to your baby.

Tip

Take ibuprofen to reduce the pain and inflammation associated with engorgement. The Children's Physician Network says that only a small amount of ibuprofen will get into your milk supply.

Make sure your baby latches on completely during feedings. An improper latch can make breastfeeding with an engorged breast even more uncomfortable.

Warnings

Breast engorgement can lead to blocked milk ducts or a breast infection. Call a doctor if your symptoms worsen or persist.

Some women may experience a reduction in milk supply after using cabbage leaves. La Leche League International advises women to stop using cabbage leaves as soon as the swelling goes down.