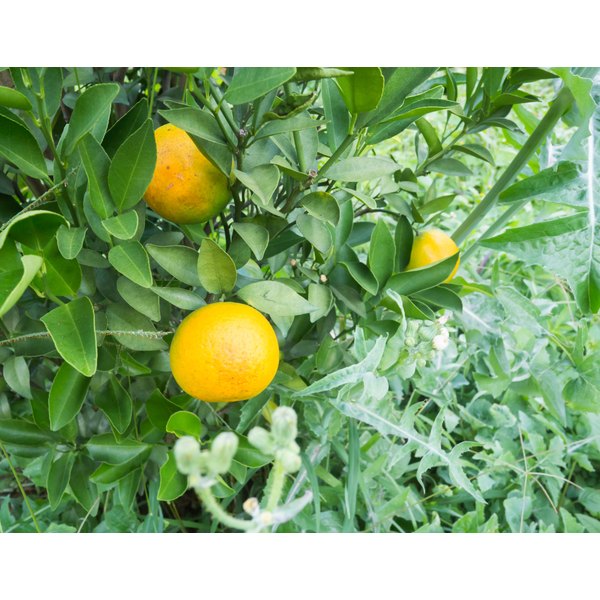 The flowers of the bitter orange tree are the source of neroli oil, nootes the National Center for Complementary and Alternative Medicine or NCCAM. Aromatherapists often utilize neroli due to its calming and sensual effects. The floral and spicy scent of neroli oil makes it an appealing ingredient in bath oils, skin creams and some perfume. Neroli oil may also have medicinal uses due to its antibacterial properties. Always check with your healthcare provider before using herbs for medical reasons.
Aphrodisiac
Neroli oil is a natural aphrodisiac that may not only stimulate sexual desire but help treat frigidity in women and erectile dysfunction and impotence in men, notes Organic Facts. Ask your health practitioner about the benefits of herbal remedies for sexual dysfunction concerns.
Calming and Mood-Lifting
The purported sedating effects of neroli oil may help relieve anxiety and tame anger, states Organic Facts. Some recommend neroli oil as a natural antidepressant. The belief that neroli oil may promote feelings of happiness may be one of the reasons it is often used in aromatherapy. Talk to your healthcare provider about using neroli oil for mental health issues.
Skin Care
When applied topically, neroli oil helps to preserve moisture and has a smoothing effect on the skin, notes Organic Facts. Moisturizing body creams that combine neroli with other essential oils such as avocado, wheat germ and rosehip may be especially beneficial for dry, aging skin, notes Smart Skin Care.
Disinfectant
Applying neroli oil to cuts or abrasions may help prevent infections from developing due to its antibacterial effects, notes Organic Facts. When taken orally, neroli is also purported to treat urinary tract, kidney, colon and prostate infections. Check with your doctor about using herbal remedies to treat cuts, wounds and internal infections.
Therapeutic Effects
Neroli oil may have therapeutic effects when used as massage oil. A review of several studies published in 2008 in the "American Journal of Critical Care" found patients who received a foot massage with neroli oil generally reported less pain and anxiety and increased restfulness than those who received massages with other oils such as apricot, grape seed and sweet almond. The systematic review was headed by Margo A. Halm of United Hospital in St. Paul, Minnesota. Consult with your health practitioner about the therapeutic benefits of neroli oil.