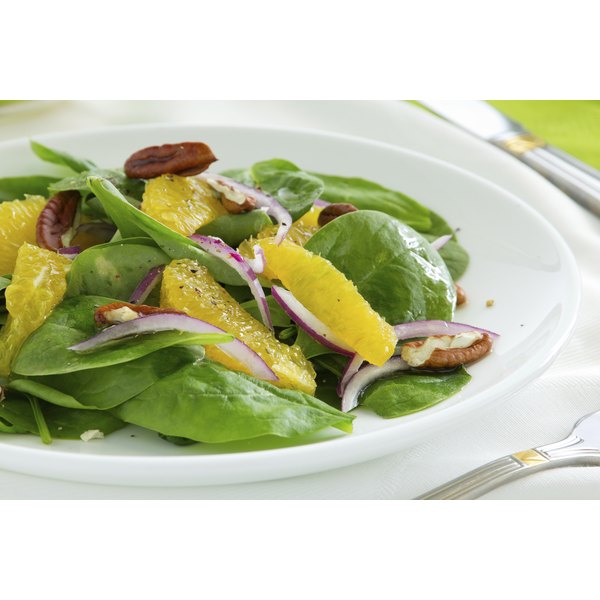 The persistent introduction of toxins into the body each day may cause waste to linger in your digestive and gastrointestinal tract. Popular detoxification cleanses often recommend fasting, limited food items or herbal formulas for toxin elimination. Unfortunately, many of these fad cleanses are unhealthy and actually contribute to contaminant retention. By supplementing foods conducive in cleansing, you can naturally assist your body to get rid of toxins or associated impurities resulting from improper digestion or bad eating habits. However, there is limited scientific information regarding the efficacy of detoxification methods. Regularly consult your doctor before and while using a cleansing formula.
Vegetables of the Green Variety
Green vegetables contain high levels of insoluble and soluble fiber, which quickly passes through the body, eliminating toxins or contaminant matter stuck in the digestive tract, reports the Young Women's Health Organization. Dark green leafy varieties offer additional nutrients including vitamins C and E, both of which are powerful antioxidants that prevent free radical cellular damage caused by metabolism of external agents. Supplementing your diet with items such as arugula, baby romaine lettuce and spinach helps to cleanse the body with a balanced diet.
Berries Plentiful in Phytochemicals and Antioxidants
Many berry assortments contain phytochemicals, which protect and prevent the body from diseases caused by toxins. These fruits also contain plentiful amounts of vitamin A and C, which are beneficial antioxidants that help remove toxins, according to the American Institute for Cancer Research and reported by MSNBC. Futhermore, the phytochemicals present in items such as blueberries, strawberries and raspberries actually enhance the antioxidant powers by doubly safeguarding the body against toxins such as free radicals. Additionally, these fruits have ellagic acid, an important phytochemical the blocks metabolic pathways that can cause cancer. Regularly add berries to your cereals or as raw snacks to procure their cleansing properties.
Omega-3 Fatty Acid
The body requires healthy supplements of unsaturated fats, including poly- or monounsaturated fats. They help to lubricate intestinal walls, absorb toxins and flush them out of the system, states the Healing Daily website. Items such as flax seed, salmon, cod and olive oil provide essential levels of this "good" fat, helpful in ridding the body of toxins while offering added nutrients for overall health. For example, omega-3 fatty acids help to prevent and control constipation while soothing inflamed hemorrhoids and kidneys.