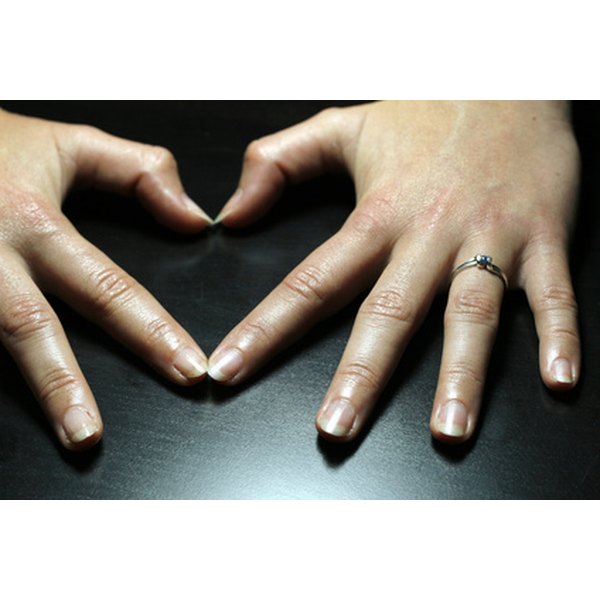 Many cosmetic products available at stores contain biotin, or vitamin H, which is purported to help improve the appearance of hair, nail and skin. Biotin is a water-soluble vitamin that's naturally available in various foods, such as liver, cauliflower, salmon, bananas, soy flour and yeast. According to North Carolina State University, biotin supplementation helps with damaged hair and nails–which is primarily made up of protein–through the increased rate and efficiency of protein digestion. Using biotin supplements and products containing biotin is not a substitute for medical treatment; consult your health care provider to discuss any potential risks.
May Promote Hair Growth
Biotin is a popular ingredient in some hair shampoos and scalp products available at stores, including high-priced designer labels. Increasing your daily intake of biotin to 300mcg might promote hair growth, according to the University of Maryland Medical Center. However, lack of clinical evidence suggests that if you are currently consuming the recommended daily amount of biotin that you'll notice a change in hair growth. A study in 1999 and released in Pediatric Dermatology reported that biotin combined with zinc and a topical clobetasol propionate was used to treat symptoms of alopecia, which is partial or complete hair loss, in children and adults.
Could Strengthen Nails
Taking a biotin supplement might help strengthen your fingernails from thin, splitting and brittle fingernails and toenails. According to the Linus Pauling Institute at Oregon State University, biotin supplements are effective in treating hoof abnormalities in horses and pigs, so there's speculation that biotin helps strengthen brittle fingernails in humans. In addition, three uncontrolled clinical trials showed subjective evidence of clinical improvement when using biotin for brittle nails. However, larger studies are needed to assess the efficacy of high-dose usage of biotin supplements for brittle nail treatment.
May Alleviate Cradle Cap
Dermatitis occurs in infants and adults when biotin deficiency affects the cellular fat components in the skin. Cradle cap in infants causes yellowish-white patches on the scalp, head, eyebrows and the skin area behind the ears. Seborrheic dermatitis, which occurs in adults, can occur in different locations of the skin. According to the University of Maryland Medical Center, there are no clinical studies that support treating cradle cap in infants with biotin--either through formula or breast milk--but preliminary studies showed improvement with treatment.